Japanese fireworks are arguably the best part of summer. After a long and trying
rainy season (tsuyu)
, people are just itching to get out and enjoy themselves!
Did you know there's a firework display called the Niagara? These fireworks are arranged in a row, set off at the same time, and are specially designed to look like a huge wave or waterfall.
In this article, you'll learn all about the fireworks festival in Japan: what to expect, how these festivals got started, and some relevant vocabulary you can use to impress your Japanese friends.
Let's get started.
1. What is the Hanabi Festival in Japan?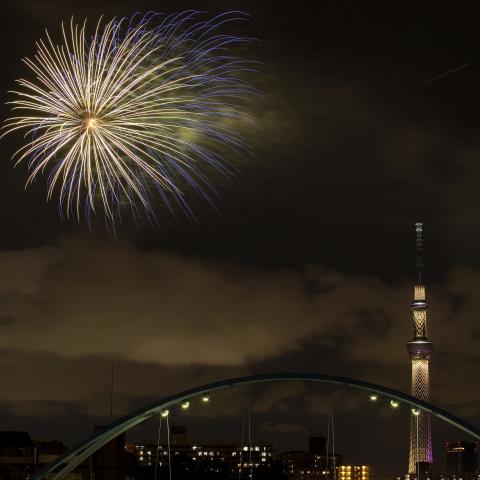 Every year during the summer, usually in July and August, the Japanese celebrate the Hanabi festival. Hanabi is Japanese for "fireworks," but it literally means "fire flower." The Japanese consider Hanabi to be the 夏の風物詩 (なつの ふうぶつし), or "epitome of summer."
A History of Fireworks in Japanese Culture
It's believed that Japan had its first taste of fireworks
in the 1600s
when the shogunate founder,
Tokugawa Ieyasu
, was given fireworks as a gift from someone representing King James I. He greatly enjoyed them, and over time, the Edo lords began using the fireworks for their entertainment by setting them off above the Sumida River.
It was at the Sumida River that one of the first public fireworks displays in Japan took place in 1733. During this time, the fireworks were used for both entertainment and to ward off evil spirits. Many Japanese during this era had taken ill or died from disease, so watching the Hanabi in Japan was both a means of easing one's mind and of mourning.
Today, there tends to be a greater focus on the creative aspect of fireworks, and once you see the amazing fireworks in Japan, you'll see that the Japanese take this creativity very seriously.
2. What to Expect During Hanabi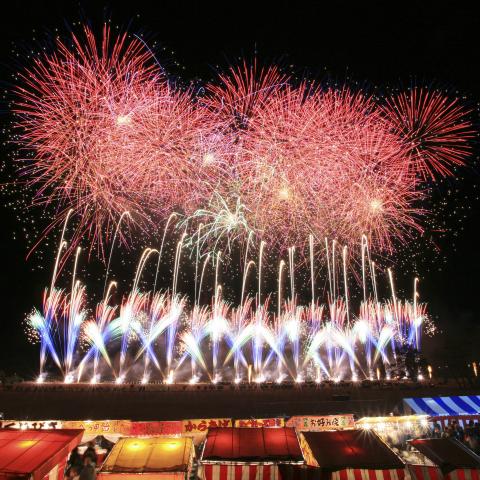 How to Prepare
Because Hanabi takes place during the hottest months of summer, you'll definitely want to wear cool summer clothes. Alternatively, you can purchase a 浴衣 (ゆかた), or
yukata
, which is a summertime kimono designed to keep you cool. You should also ensure that you have something to sit on, like a blanket or groundsheet.
The Fireworks
Japanese fireworks are known for their clever, fascinating designs. There's no better time to see them than during the Hanabi festival. Japanese pyrotechnicians really put their heart and soul into these things! There are fireworks that are shaped like hearts, faces, cartoon characters, and other objects or elements.
Some of the best fireworks festivals in Japan are:
Nagaoka Fireworks
Osaka Tenjin Fireworks
隅田川花火大会 (すみだがわはなびたいかい) – Sumidagawa Fireworks Festival
Of course, there are many more all summer long!
Another important note: If you really want to fit in while watching the fireworks, be sure to say 玉屋 (たまや), or "tama-ya," and 鍵屋 (かぎや), or "kagi-ya," as the fireworks burst. Everyone around you will be doing this, so why not join in the fun?
We highly recommend that you
try something from a 屋台 (やたい), or "food stall,"
while you're out.
→ Take a look at our list of the top Japanese Foods and let us know which one is your favorite!
Tips for the Festival
Before you visit Japan for the Hanabi festival, keep in mind that it's going to be
crowded
.
This means that if you want a good seat or view, you'll need to arrive super-early. Many Japanese people show up to the fireworks location several hours before they actually begin. The same goes for tickets: If you need a ticket to attend a specific firework show, be sure to purchase it in advance. You normally can't buy a ticket on the day of the show.
In addition, you'll need to book a hotel room as soon as possible. If you wait until the last minute to take this step for your trip, you may find all of the hotels booked!
And big crowds mean long lines! Definitely use the bathroom
before
arriving at the firework viewing area. Otherwise, you'll end up waiting a really long time to use the bathrooms there.
Finally, don't leave immediately after the firework show. If you do, you'll be squished between all the other people leaving; the trains will be full, and the roads will be jammed with traffic. It's better to wait a little while and enjoy the other amenities before leaving.
3. Why Do We Say Tama-ya?
During the Edo period, there were two men credited with bringing fireworks to Japan. These two firework-makers' names were Tamaya and Kagiya, and the Japanese shouted their names while watching the Hanabi.
Today, there's less meaning in shouting the names, and it's mostly done to make the show more exciting.
4. Vocabulary for the Japanese Fireworks Festival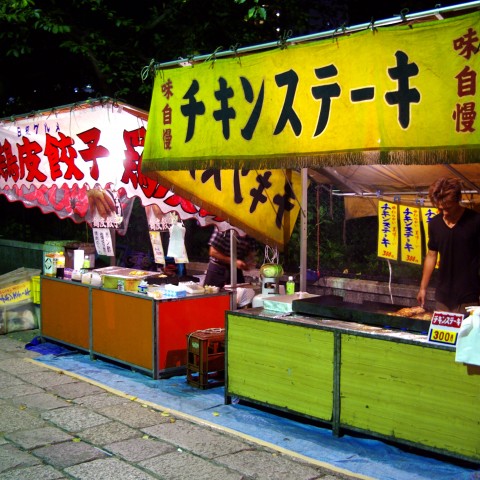 Here's a quick list of some of the vocabulary words and phrases from this article.
夏 (なつ) — "summer"
甚平 (じんべい) — "jinbei"
花火大会 (はなびたいかい) — "fireworks festival"
浴衣 (ゆかた) — "yukata"
屋台 (やたい) — "food stall"
玉屋 (たまや) — "tama-ya"
夏の風物詩 (なつの ふうぶつし) — "epitome of summer"
隅田川花火大会 (すみだがわはなびたいかい) — "Sumidagawa Fireworks Festival"
打上花火 (うちあげはなび) — "sky rocket"
花火師 (はなびし) — "pyrotechnician"
鍵屋 (かぎや) — "kagi-ya"
火薬 (かやく) — "gunpowder"
仕掛花火 (しかけ はなび) — "exhibition"
To hear the pronunciation of each word and phrase, visit our
Japanese Fireworks Festival vocabulary list
!
Final Thoughts
The Hanabi festival in Japan really is one of the most beautiful and exciting occasions all year long. There's something about the coolness of the rivers, the company of fellow onlookers, and watching the brilliant Hanabi with a drink in your hand.
What are your favorite things about summer? Are there any special summertime events in your country? Let us know your experiences with them in the comments!
To learn more about fun things that happen in Japan throughout the year, and to pick up some new phrases you can start using today, check out these free articles on
JapanesePod101.com
:
Stay safe out there, and happy Japanese learning!