Are you listening to any good podcasts at the moment? 
Maybe podcasts are not as popular as other services like YouTube or Netflix, but they're still one of the most useful and entertaining forms of online media. As of April 2021, there were over two million podcasts (and over 48 million episodes) on various topics, including many helpful Japanese podcasts for learning the language. 
Did you know that you could benefit from these useful podcasts by adding them to your Japanese study routine? Listening to podcasts in Japanese will allow you to learn the language efficiently and effortlessly from anywhere you are—even without having direct access to native speakers. 
Since there are plenty of Japanese podcasts out there, choosing the right channels and finding the right resources for you are the keys to more effective learning.
In this article, we'll introduce the twelve best podcast channels to supplement your Japanese studies, including our JapanesePod101 podcast!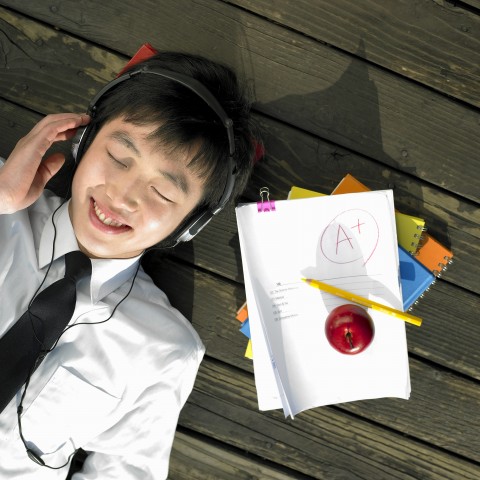 Listening to podcasts is one of the most easygoing ways to learn Japanese.
Table of Contents
1. Why learn Japanese with podcasts?
Before we get to our list, let's talk about why improving your Japanese with podcasts is totally possible—and why it may just be a gamechanger! 
1 – Benefits of Passive Learning 
Along with more traditional methods, such as taking a class or studying grammar from textbooks, one of the most effective ways to learn a new language is to experience it through immersion. 
If it's not feasible to live and study in Japan, you can still take full advantage of the internet and technology! Whether it's streaming audiobooks, listening to online radio, watching YouTube videos, or discovering your favorite podcasts, we recommend making it a habit to listen to Japanese daily. This way, you can efficiently learn even when you're driving, exercising at the gym, doing chores around the house, etc.
Even such effortless passive learning brings a lot of benefits:
Improving your listening skills
Helping you get used to real pronunciation
Familiarizing you with real-life conversations 
Upgrading your vocabulary on chosen topics 
Training you to recognize and confirm the usage of grammar rules you've already learned
You'll also benefit from "Nagara Learning," or ながら勉強 (Nagara benkyō) in Japanese. 
ーながら (-nagara) means "while —ing." In other words, you listen to and learn a language while you're doing something else, such as commuting, walking, or cooking. The advantage of Nagara Learning is that you can use your time efficiently and stay motivated due to the less stressful (and more entertaining) nature of your study time. 
2 – Benefits of Podcasts
So why do we recommend podcasts for learning Japanese when there are various other online services? Well, it's because podcasts have some advantages over other media when it comes to learning. 
A podcast is basically an episodic series of digital audio files that you can download onto your device. Therefore, you're able to listen easily at any time and from anywhere—even without internet access. 
You can find podcasts in a wide range of genres and covering various topics. Some podcasts are also exclusively auditory, which means you won't have to rely on visual aids and will be able to concentrate on listening.
Many episodes are only a few minutes in length, which will allow you to easily shift into and out of your "focusing mode." In addition, short episodes are ideal for repetition learning, which can keep you focused and interested; repetition is one of the most important elements for learning and for retaining memories. Their short length will also contribute to keeping you motivated rather than suffocating you in endlessly lengthy content.
3 – How to Choose the Best Channel for You
Firstly, choose topics you're into. The important things are to keep yourself interested and make learning a daily habit. As a Japanese proverb says: 
好きこそ物の上手なれ (Suki koso mono no jōzu nare) – "What one likes, one will do well!" 
There are a variety of popular Japanese podcasts to choose from, and you'll definitely find one (or more) that suits your interests and needs. Even new learners can find different podcasts suited to their level, including those focusing on topics such as daily conversations, everyday news, etc.
Secondly, whether you're new to the world of Japanese or already have a solid understanding of it, choosing the right level for you is essential for effective learning. If you're a complete beginner, don't jump into an IT podcast right away, even if tech is a great interest of yours. The language used would be too far ahead of where you are since you still don't know the basic Japanese vocabulary or verb conjugations.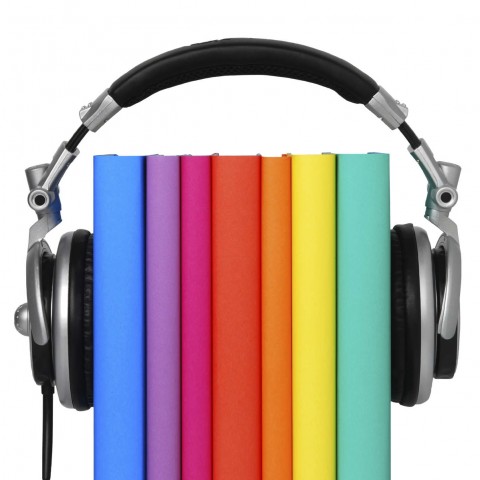 It's free, easy, and convenient.
2. The 12 Best Japanese Podcasts
1 – Let's Talk in Japanese
Level: Beginner to Advanced
Theme: Lesson Podcast
Features: Covers levels N5-N1 (JLPT)
This Japanese learning podcast is hosted by Tomo, a real teacher who gives Japanese lessons to foreigners. There are more than 170 episodes (as of June 2021), and most episodes are around 10 minutes long—just the right length for listening practice! 
Although the podcast is made for Japanese learners, the episodes are not laid out like traditional lessons. Tomo talks about a variety of topics, from daily life to private thoughts, in easy (but not too easy) Japanese. You can just relax and enjoy. The level (N5 to N1) is indicated beside the title of each episode so that you can easily pick one that's suitable for you. 
This podcast is quite popular among learners, having a high customer rating score of 4.8 on Apple Podcast. Listeners are happy to learn not only the Japanese language but also about Japanese culture and society. 
2 – Sakura Tips
https://sakuratips.com/
https://podcastranking.jp/1536540690
Level: Beginner
Theme: Daily Stories
Features: Japanese and English transcripts available on the website
Although this podcast is completely in Japanese, don't be afraid! The host of Sakura Tips, Mari, speaks Japanese very slowly and uses simple vocabulary. This channel is suitable for beginners who want to get used to spoken Japanese but feel that the dialogue in Japanese TV series or movies is too fast.
Each episode is short (around 4-5 minutes), and you can listen without stress. Her slow speech and the mellow background music will make you feel relaxed, and you'll always look forward to tuning in again. The topics of her stories vary, covering everything from daily life activities to general topics, so you're not likely to get bored.
Mari also has an online community for those who are learning Japanese. Check it out if you want to meet like-minded people and make friends. 
https://www.japanesepod101.com/
JapanesePod101 (Apple Podcast)
Level: Absolute Beginner to Advanced
Theme: Lesson Podcast
Features: Structured online lessons and useful learning tools for free + paid premium content
If you've just started learning Japanese and researching the best online learning platforms, you've probably come across JapanesePod101.com. Our website is an expert resource for Japanese learners at every level. All language lessons and learning materials on the JapanesePod101 podcast are designed with foreign students in mind. Our website and app feature an array of tools: 
Audio and/or video material
Slowed-down audio
PDF lesson notes
Transcripts
Vocabulary lists
Especially if you're a complete beginner, you'll find it useful that we explain everything in English. Our lessons cover a range of topics, from everyday vocabulary and conversational phrases to Japanese culture, so you can always find something that interests you. And while our lessons vary in length, most of them are around 5-10 minutes long for easy listening. 
4 – NHK Easy Japanese
https://www3.nhk.or.jp/nhkworld/
NHK World (Apple Podcast)
Level: Complete Beginner and Beginner
Theme: Lesson Podcast
Features: Structured online lessons and programs; domestic and international news
NHK is a major Japanese media broadcaster that offers structured lessons and programs online in addition to domestic and international news channels.
NHK's Easy Japanese podcast has 48 episodes of about 10 minutes each. They are not currently uploading new episodes, but the podcast includes everything you need for a solid introduction to the Japanese language. This is especially true if you're a complete beginner who prefers audio learning. 
In each episode, there is a Japanese dialogue that focuses on the topic at hand; this is followed by an explanation in English about the usage and grammar of the Japanese used. Some episodes focus on things like grammar and vocabulary, while others focus on tips for improving your Japanese.
This podcast is more like a lesson than entertainment, but it's a good choice to begin with if you prefer mastering the basics and getting used to Japanese with audio. 
5 – Learn Japanese w/ Manga Sensei
Learn Japanese w/Manga Sensei (Apple Podcast)
Level: Beginner to Intermediate 
Theme: Lesson Podcast
Features: Plenty of episodes and topics to choose from (best audio learning for JLPT N5-N3 levels)
This podcast offers abundant content for learners of Japanese, containing more than 630 episodes. You'll find it easy to listen daily and stay engaged since the host also explains lots of non-textbook, more natural expressions and information. It also helps that the episodes are only 5 minutes long and focus on just one topic each. Manga Sensei is especially suitable for those who are studying in line with the JLPT or plan on taking the exam soon. 
The host explains Japanese grammar and spoken expressions in English, so you don't have to worry about understanding the content itself. However, it's probably better for you to learn the very basic grammar and standard speech rules of Japanese first. After you master that, this podcast would be a great tool for improving your Japanese. 
6 – Beginning Japanese
Level: Beginner to Upper Beginner 
Theme: Lesson Podcast
Features: Very short episodes
No matter what study method you follow, you can casually add this podcast to your routine without stress. Why? Because each episode is very short (only 2 or 3 minutes). 
The host explains a Japanese word or expression in English and then provides an example Japanese sentence, which is repeated at both normal speed and slow speed. You'll probably master a given word or expression quickly after just a few listens, as it will really stick in your brain.
The content might be a little too simple, but that's one of the reasons why you'll be able to increase your vocabulary so quickly. There are no lengthy explanations or excessive examples to bog you down. If you're a beginner, spare a few extra minutes listening to this podcast every day—you'll be amazed at the results! 
7 – Japanese Podcast for Beginners (Nihongo Con Teppei)
https://nihongoconteppei.com/
Nihongo Con Teppei (Apple Podcast)
Level: Intermediate 
Theme: Life, Culture, Small Talk
Features: An all-Japanese podcast on various topics; slow speech
The Nihongo Con Teppei podcast has more than 420 episodes, most of which are around 5 minutes long. The content consists of Teppei (the host) making small talk and sharing opinions about various topics, including daily life, culture, social issues, food, and even private matters.
Although the podcast title says "for beginners," this channel is probably most suitable for intermediate learners who already have some basic Japanese vocabulary and listening experience. Indeed, Teppei speaks very slowly and pronounces words clearly, but we imagine that beginners would find it difficult to understand the all-Japanese content without transcripts. 
If you want to strengthen your Japanese listening skills and are interested to know how a Japanese person views certain topics, this podcast is for you. Just sit back, relax, and enjoy the talk. It's rather addictive to listen to Teppei's slow speech and low tone of voice.
8 – News in Slow Japanese
News in Slow Japanese (Apple Podcast)
Level: Intermediate to Advanced
Theme: News
Features: Super short episodes in very slow Japanese
This Japanese news podcast is unique in that each episode consists of two versions: a 1-minute version where the host speaks at a fast speed and a 2-minute version where she uses slow speech. While you would think this type of podcast had been around a while, News in Slow Japanese was the first of its kind.
You'll be able to easily pick up every word the host Sakura says, as she speaks very slowly and clearly. This podcast is made for learners who are studying for JLPT levels N3, N2, or N1, though it's also useful for beginners thanks to her slow speech. While listening to this Japanese podcast, you'll also get to learn about daily news and current events in Japan. 
This is one of the best audio tools for practicing the language, especially in terms of shadowing. You can also download transcripts and translations with ふりがな (Furigana), or Japanese reading aid, from their website.
9 – バイリンガルニュース (Bilingual News)
https://bilingualnews.libsyn.com/
Bilingual News (Apple Link)
Level: Intermediate to Advanced
Theme: News
Features: Japanese- and English-speaking hosts; no sponsors or ads
The hosts, Mami and Michael, introduce several recent news stories from around the world in Japanese and English. Their explanations and opinions regarding the news are presented as a bilingual conversation. 
This podcast serves as a great tool for listening practice, especially for intermediate- and advanced-level Japanese language learners. You'll be able to learn colloquial speech and new vocabulary from their casual and unedited Japanese-English conversation. You may find it a bit difficult when a news topic is about science, technology, etc., as it will require a high level of vocabulary to follow along. 
There are over 460 episodes so far, and a new episode is released weekly. The length of each episode is very long (usually from 1 to 3 hours), so it's good to listen while you're cooking or commuting rather than using it for intensive studying. In case you want to check what they're saying, transcripts are also available from the official Bilingual News app.
10 – Tofugu
Tofugu (Apple Podcast)
https://www.tofugu.com/podcast/
Level: Beginner to Intermediate 
Theme: Language Lessons and Culture
Features: Lots of info on Japanese words, phrases, and grammar
The Tofugu podcast has around 100 episodes so far, and it's updated regularly. Each episode focuses on a certain Japanese word, phrase, or tip on how to do things in Japan. The podcasters explain the topic in English, providing many examples and giving useful information on the cultural context. 
Episodes are around 30 minutes to an hour long. Each one contains plenty of informative explanations, which makes it an ideal Japanese podcast for supplementing your studies and becoming familiar with new vocabulary and grammar. But you can still relax while listening due to the easygoing nature of audio learning. 
In addition to its podcasts, Tofugu offers a lot of information about the Japanese language and how to get around in Japan on their website. It's specifically designed for foreigners who want to visit or live in Japan.
11 – Japanese Swotter
https://japaneseswotter.wordpress.com/
Japanese Swotter (Apple Podcast)
Level: Intermediate to Advanced
Theme: Lesson Podcast
Features: Focuses on speaking and shadowing practice
Yoko, the host, makes this Japanese learning podcast very easy to follow. In a 6- to 10-minute episode, she explains slowly (in English and Japanese) the meaning and usage of a word or phrase. She also introduces examples in the form of simple dialogue. All you need to do is listen to the explanation in English and repeat in Japanese after Yoko. 
Japanese Swotter covers the upper beginner, intermediate, and advanced levels, even going into detail about 敬語 (Keigo), or Japanese honorific speech. Although the podcast has less of an entertainment atmosphere compared to the others on our list, it's a useful tool for those who prefer to study Japanese intensively with audio. 
On her website, you can find some information and tips for learning. In addition, the transcripts and translations are provided on Patreon with a paid subscription.
12 – Rebuild
https://rebuild.fm/
Rebuild (Apple Podcast)
Level: Advanced
Theme: Tech, Software Development, Gadgets
Features: All-Japanese
With over 420 episodes and a customer rating of 4.7, the Japanese podcast Rebuild has a lot of hardcore fans. This all-Japanese podcast is hosted by Tatsuhiko Miyagawa, who has unscripted conversations with a different guest speaker in each episode. The main themes are tech, software, and gadgets; sometimes it expands to topics about culture and social issues, but it's always discussed from the angle of technology or science. 
If you're already at an advanced level and can listen to Japanese without much difficulty, this podcast will serve as a good Japanese vocabulary builder for you. This is mainly because they use many technical terms and produce plenty of tech-geek content.
We recommend sitting back and listening to it like a radio show as each free talk is around 2 to 3 hours long. 
3. How to Make the Most of Podcasts for Japanese Learning
(1) Stimulate your interests.
Follow podcasts that cover topics you enjoy, as this will make you feel like listening more without the sense of having a study obligation. However, it's also true that you need to have the basics down to understand spoken Japanese on any topic. Even if you're at the beginner level, try different Japanese podcasts for beginners to find one that attracts you.
(2) Don't stress yourself.
The important thing is to continue learning. Don't aim high from the very beginning; rather, start with an easier level until you get used to it. Enjoy learning and make it a daily habit in order to avoid stress.
(3) Repetition helps you learn faster.
Once you find your favorite podcasts and episodes, just repeat, repeat, repeat! Long-term memories are often created or fixed through habitual activities or repeated input, like how an infant starts to speak their native language. Not only is repeated listening effective, but so is the repeated imitation of speech (also called "shadowing"). 
(4) Immerse yourself.
The key is not to listen once a week for long hours, but rather to get daily exposure for even just a couple of minutes a day. "I'm busy" is never a plausible excuse. No matter who you are, you definitely have a few minutes to spare every day—while you're getting ready to go out, commuting to work, relaxing before bed, etc. You can find podcasts with 1- to 5-minute episodes for busy weekdays, and use those with longer episodes for the weekends or when you have free time.
(5) Put in a little extra effort.
Okay, whatever thing you're working on (sports, work, studying, or a favorite hobby), you need to make an effort to improve and excel, right? The same thing goes for audio learning. Passive learning is easy to take up and is more relaxed than traditional study methods; however, just listening repeatedly won't take you to the next level anytime soon. To be more efficient and effective, put in a little more effort: listen with and without transcripts, write down new words and phrases in your notebook, use a recorder to shadow the podcast host, etc.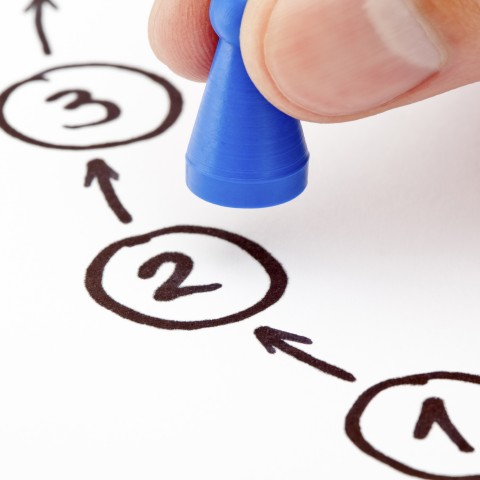 Your continuous efforts will be rewarded.
4. Conclusion
In this article, we introduced the twelve best podcasts for learning Japanese at different levels. Once you find your favorite and most suitable podcast, listening every day will really help you improve your skills (especially in listening, speaking, and pronunciation). Continuation and repetition are the keys for effective learning. Let's get started and make the most of your Japanese podcast time!
If you would like to learn more about the Japanese language, from basic grammar to practical phrases for any occasion, you'll find a lot more useful content on JapanesePod101.com. Together with the JapanesePod101 podcast channel, our variety of free lessons and materials will help you improve your Japanese skills in every key area. 
Our personal 1-on-1 coaching service, MyTeacher, is also available when you subscribe to a Premium PLUS membership with us. Your private teacher will help you practice pronunciation, and you'll get personalized feedback and advice to help you improve more efficiently.
And we have so much more to offer you! Learn Japanese faster and enjoy studying at JapanesePod101.com.