Each year, Japan celebrates the Bon Festival (also called O Bon, The Obon Festival, or The Feast of Lanterns). This holiday is essentially a time for families to honor their deceased by throwing a celebration for them, a tradition we'll go more into later.
In this article, you'll learn about Japanese Bon Dance music, and many other Obon Japanese events and symbols. In learning about the Obon Festival Japan observes each year, you're allowing yourself a deeper, more heartfelt glimpse into its culture and its history.
At JapanesePod101.com, we hope to make this learning adventure both fun and informative. So let's get started learning about the Japanese Bon Festival holiday!
1. What is Obon in Japan?
The Bon Festival is an event of Buddhist origin observed in order to honor the spirits of the ancestors. Essentially, this day is for families to hold a memorial service to welcome the spirits of their deceased ancestors.
The word Bon is said to be an abbreviation of the name for the Ghost Festival, which came from China. The Feast of Lanterns is an event held to save the spirits of deceased parents and ancestors from suffering. This event was brought over to Japan, and together with the Japanese custom of ancestor worship, O-bon in its current incarnation came to be held in the Edo Period.
2. When is the Bon Festival?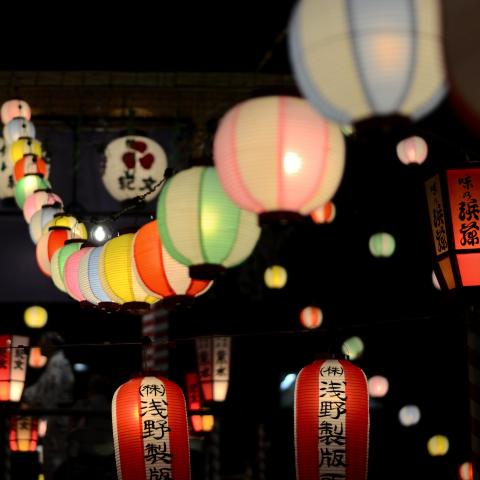 Most of Japan celebrates the Bon Festival from August 13 to August 15, though some regions celebrate it in mid-July.
Many companies close for the Obon holiday, and people go back to their hometowns to visit their families, or go on a vacation somewhere with them. Obon is not just a religious event held to honor the ancestral spirits, it has also taken on a greater meaning as a national holiday.
3. Reading Practice: Bon Festival Japanese Celebrations
Read the Kanji Japanese text below to learn about how the Japanese celebrate the Bon Festival, and find the English translation directly below it.
—
行事の内容も地域によって様々ですが、一般的な風習(ふうしゅう)を紹介しましょう。
13日に、先祖(せんぞ)の霊を家に迎えるために、提灯(ちょうちん)を灯(とも)したり、迎え火(むかえび)を焚(た)いて、戻る家の場所を伝えます。
14日から15日は、迎え入れた先祖(せんぞ)の霊と一緒に過ごします。仏壇には、帰ってきた先祖(せんぞ)の霊のためのご飯もお供(そな)えします。
16日は、送り火を焚(た)いたり、灯篭流し(とうろうながし)をして、霊を送り出します。
また、お盆には、「盆踊り」が行われます。広場にやぐらを立て、人々は、やぐらの上の太鼓の音頭(おんど)に合わせて、その周りを回りながら踊ります。もともとは、お迎えした霊を供養(くよう)するための踊りといわれていますが、今では、屋台がならび、お祭り的な要素も強くなっています。地域によっていろいろな盆踊りがあり、有名な「阿波踊り(あわおどり)」も、盆踊りの一つです。
「盆と正月が一緒に来たようだ」という表現を知っていますか。これは、お盆や正月は故郷で家族が集まり、楽しく、忙しい時期なので、嬉しいことが重なったり、とても忙しいときに使う表現なのです。
—
Although the details of Obon vary depending on region, let's look at some common customs.
On the 13th, lanterns are lit in order to welcome the ancestral spirits back to the home. The fire of these lights shows the spirits the location of the home.
On the 14th and 15th, time is spent with the ancestral spirits. Offerings of food are laid at the household Buddhist altar for the returning ancestral spirits.
On the 16th, the departure lamps are lit, and through these hanging lanterns the spirits depart.
Another custom is the Bon Dance that is performed at Obon. A watchtower is raised in a square, and people then dance around it in time with the beating of the drum on the turret. While originally it was a ritual dance for the memorial service in which the spirits are welcomed, these days with booths lined up, it feels more like a festival. There are regional variations of the Obon Dance. One famous version is the Awa Dance.
Do you know the phrase "It's like Obon and New Year's both came at once!"? Because Obon and New Year's are both busy, enjoyable times when families gather together, this phrase is used to refer to busy times filled with happiness.
4. Horses & Cows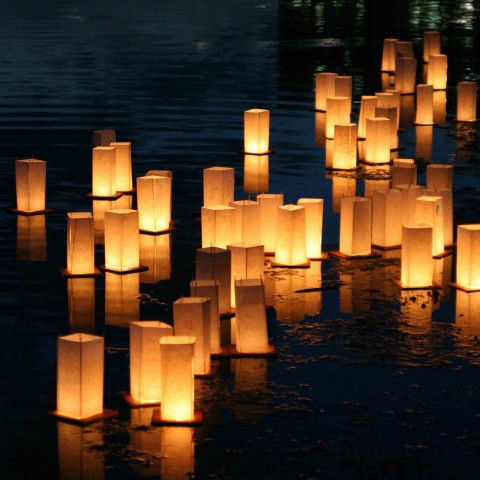 It is thought that at Obon, ancestral spirits come back from the afterlife and then return to it. What do you think spirits use to go back and forth between the afterlife?
It's thought that the spirits ride a horse and a cow to travel back and forth. At Obon, cucumbers, eggplants, and disposable chopsticks are used to create figures of the horse and cow, which are then put on display. The cucumber represents the horse, and the eggplant the cow. The idea is that the spirits ride on a horse to come home quickly, and ride on a cow to go back slowly.
5. Useful Vocabulary for the Japanese Bon Festival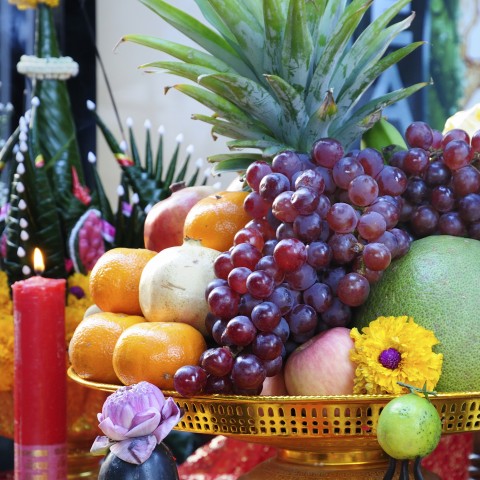 Here's some vocabulary you should know for the Bon Festival in Japan!
お盆 (おぼん) — Bon Festival
提灯 (ちょうちん) — paper lantern
仏壇 (ぶつだん) — Buddhist altar
盆踊り (ぼんおどり) — bon dance festival
精霊流し (しょうろうながし) — Spirit Boat Procession
お盆休み (おぼんやすみ) — bon holiday
墓参り (はかまいり) — visiting a grave
供え物 (そなえもの) — offering
迎え火 (むかえび) — welcome fire
霊 (れい) — spirit
灯篭流し (とうろうながし) — floating lanterns
送り火 (おくりび) — ceremonial bonfire
盆踊り (ぼんおどり) — bon dance
あの世 (あのよ) — afterlife
To hear each of these Bon Festival vocabulary words pronounced, check out our relevant vocabulary list!
Conclusion: How JapanesePod101 Can Help You Master Japanese
We hope you enjoyed learning about the Japanese Obon Festival with us! What do you think about this holiday? Is there a holiday similar to it in your own country? Let us know in the comments!
To continue learning about the Japanese culture and language, visit us at JapanesePod101.com and explore our array of practical learning tools. Read more insightful blog posts like this one, study our free Japanese vocabulary lists, and download our mobile apps designed to let you learn Japanese wherever you are and on your own time! By upgrading to Premium Plus, you can also take advantage of our MyTeacher program and begin learning Japanese one-on-one with your own teacher and personalized plan.
Learning Japanese is no easy feat, but know that with enough determination and hard work, you can not only learn, but master, the language. And JapanesePod101.com will be here to help every step of your way there!