Are you traveling in Japan and missing your cat? Maybe you are just looking to cuddle some kawaii felines? Of course you are! The cat cafe, or neko cafe, will be your paradise.
Adventure with Risa!
You always dreamt of seeing Risa cuddling some cute cats? Today Risa takes you to a cat cafe and introduces you this trendy concept in Tokyo!
Start learning Japanese with videos starring Risa!
Cat cafe, an original concept
You might be surprised to hear that this concept is not originally from Japan but from Taiwan, where the world's first cat cafe opened in 1998. After seeing that it attracted many tourists from Japan, a Japanese person decided to bring the concept, which mixes the relaxing and cozy atmosphere of a coffee shop with adorable cats, back to his country. The popularity of cat cafes boomed all over Japan, with more than a hundred shops opening, half being concentrated in Tokyo. Visiting a cat cafe should definitely be on your Top 10 Spots You Must See in Japan list.
Prepare for your visit to a cat cafe with all the vocabulary you need to order!
A solution to busy Japanese urban life
Because of the size of its population, high density, and the price of housing in Tokyo, many Japanese people live in small apartments, which are not convenient for having a pet, or that just don't allow them. A lot of people would love to have a pet, but they are too busy and would not have time to take care of it. It's common to see lots of Japanese salarymen relaxing in these cafés. Visiting a neko cafe will allow you to enjoy your guilty pleasure while avoiding any trouble with your rental agreement!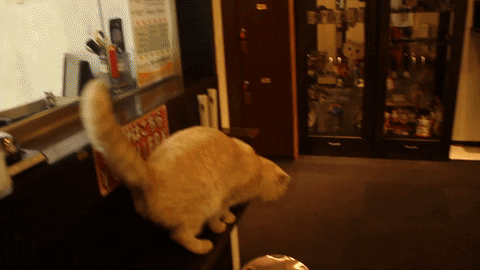 Here are the 5 reasons why you should start learning Japanese!
Cats, a cup of tea and a lot of love
In most cat cafes, for approximately 1000 yen per hour, you have access to unlimited drinks, and after replacing your shoes with slippers, you will have the opportunity to play with various kinds of cats: fat cats, black cats, clothed cats… There are cats to suit all tastes. If you try to communicate with them, just forget about "meow," it's all about "nyan"! Sounds that animals make in Japanese are very different from what you know. Have a look at the animals onomatopoeia list, and discover what the fox says!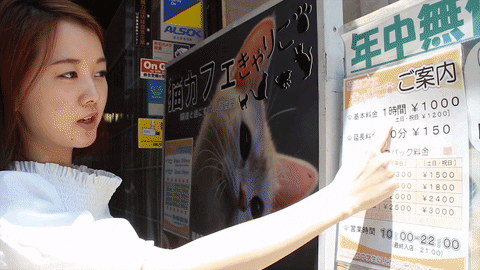 The rise of pet cafes all around the world
The concept of the cat cafe has spread all over the world: New York City, London, Paris, Toronto, Sydney, Singapore, Seoul, Bangkok… The world can't resist petting kittens while enjoying a cup of tea!
In Tokyo, the concept has been applied to other animals so you can now choose whether you'd like to visit a dog cafe, rabbit cafe, owl cafe, snake cafe, hedgehog cafe…or even a goat cafe!
Learn how to introduce yourself and interact with other customers at the café!
This crazy experience is worth trying for all cat lovers or just those who are wanting to take a break in an original place. Are you excited about visiting one of these kitty corners? Don't forget to sign up for your Free Lifetime Account and learn enough Japanese to enjoy your trip to a cat cafe!