Have you ever been to Tokyo or thought about visiting? Japan is a very unique and fascinating country, and you can never get bored in Tokyo, one of the biggest capital cities in the world!
Tokyo has a range of sights and experiences for travelers to take in: traditional and cutting-edge modern culture, a wide variety of food choices, shopping, entertainment, nightlife, and even nature and outdoor activities. With so many reasons to visit Tokyo, it's worth making the trip at least once in a lifetime to enjoy what this wonderful city has to offer.
In this Tokyo travel guide, we'll help you plan a visit to Tokyo by introducing you to some of the best locations in the city. We will also provide you with basic city and travel information, as well as a list of useful Japanese travel phrases. Let's get you all ready for your Tokyo adventure!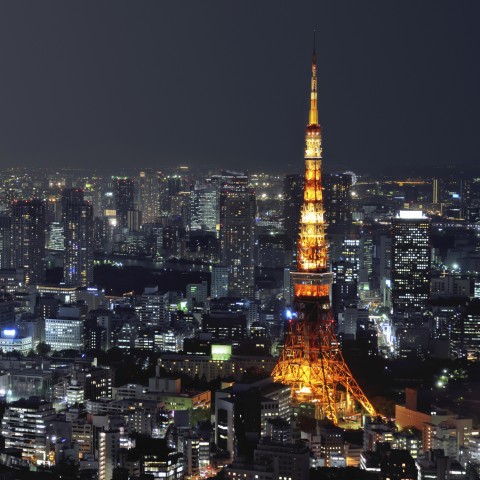 Central Tokyo has a range of skyscraper buildings.
Table of Contents
1. Basic Information for Traveling
While international travel can be fun, exciting, and relaxing, we know that it can also be a stressful experience. To give you a hand, we've compiled some of the most useful information about Tokyo, including when and how to visit for the best experience. 
City of Tokyo
Facts
Tokyo is one of the biggest cities in the world, with a population of approximately 14 million (2020) and a total land area of 2,194 km². To give you an idea, this is larger than London (approx. 9.3 million & 1,572 km²), New York (approx. 19 million & 1,213 km²), and Paris (approx. 2.3 million & 105km²).
History
The history of modern-day Tokyo can be traced back to the Edo period, some 400 years ago. The Tokugawa Shogunate was established by a Shōgun (Japanese General) named 徳川家康 (Tokugawa Ieyasu) in 1603. Over time, the city grew to become the capital of Japan and has flourished to this day. Prior to this, 京都 (Kyoto) was Japan's capital for more than a thousand years.
People and Language
Being a huge capital city, Tokyo serves as the center of business, culture, and fashion. This draws many Japanese people from other prefectures to study and work here. 
Although Japanese is the main language used here, there are many people in Tokyo who can communicate in English, especially among the younger generations. English is also used at public transportation facilities and large commercial buildings, as well as in some restaurants (especially those in central areas and touristic places).
Food and Accomodation
In this huge city of Tokyo, you can find food and accommodation to suit any budget. Whether you're a backpacker or a posh traveler who seeks only the finest lodging and dining, Tokyo has what you need. 
There's a variety of restaurants, from those offering one-coin meals (¥500 Yen coin) to high-end Michelin-starred restaurants. You can also find a wide diversity of cuisines here: Japanese, Korean, Chinese, Italian, French, American, Greek, Turkish, Indian, Thai, Vietnamese, and the list goes on. Believe it or not, Tokyo is the world's most Michelin-starred city, with 226 restaurants receiving stars for the thirteenth consecutive year, according to the Michelin Guide Tokyo 2020!
居酒屋 (Izakaya)-style bars are also popular among locals and they make for a great experience for those visiting the city. You'll get to taste variations of Japanese tapas and Japanese sake for a relatively low price.
Likewise, you can find any type of accommodation in Tokyo, from hostels/guest houses to five-star luxury hotels. 
To learn more about Japanese food, please check out our Guide to the Best Japanese Foods.
The Best Time to Visit Tokyo
The two best seasons to visit are spring and cherry blossom season, but you can enjoy traveling in Japan any time of year. Do keep in mind that the middle of summer can be very hot and winter can be a bit too cold to get around comfortably. But with the right preparation, the weather won't prevent you from enjoying the city! 
Each season has its own positive features and benefits. Following are the key points of each season.
Spring (March, April, May)

The climate starts to warm up in March, and April is the best time to view beautiful full-bloom cherry blossoms. The month of May also has nice and comfortable weather, and it's the final month of mild temperatures before it gets really hot in the summer.
Summer (June, July, August)

The rainy season, or 梅雨 (Tsuyu), starts in June and lasts until the beginning of July. There are many rainy days during this time, which makes it less pleasant to spend time outdoors. Although there are a lot of indoor facilities and activities you can enjoy in Tokyo, it's recommended to avoid traveling during this season.

After Tsuyu is over, full-blown summer arrives and the temperature increases to as high as 40 degrees Celsius (104 degrees Fahrenheit). The heat usually continues until the middle of September.

Because the summer season is so hot and humid, it's a bit tiring to get around outdoors. But don't worry too much, as Japanese trains and subways have cool air conditioning!
Autumn (September, October, November)

Autumn is a nice season to visit Tokyo as the temperature has cooled down but is not yet cold. In addition, there is far less rainy weather during this season. The Japanese consider autumn to be 食欲の秋, or a "season of good appetite," and you can enjoy a lot of good foods made with seasonal ingredients.

In November, it's very beautiful to see the leaves changing colors on the mountains with a gradation of yellow, orange, and red. It's worth visiting mountains in the outskirts of Tokyo, which are less than two hours from the center.
Winter (December, January, February)

If you plan to visit Tokyo during winter, keep in mind that it gets very cold, with temperatures often plummeting below freezing; sometimes it even snows in January and February. However, as long as you wear warm clothes, it's still manageable. It's a good season to enjoy 温泉 (Onsen), or "hot springs," and a variety of 鍋料理 /鍋物 (Nabemono), or "hot pot dishes."

Depending on how much time you have, you can also extend your Tokyo trip to include ski resorts so you can enjoy winter sports activities.
How to Get Around
Due to the massive size of Tokyo, trains are the most useful means of transportation. The train systems connect the different smaller cities within Tokyo, including so-called Central Tokyo with its 23 wards (each of which can be broken down into smaller cities and areas, as well). 
First-time visitors may find the train system in Tokyo a bit complicated at first. There are many lines for overground trains, which include the public JR (Japan Railway) service and the private Odakyu Line, Seibu Line, and Keiō Line services. There are also two subway systems in central Tokyo: Tokyo Metro and the Toei Subway (which literally means, "metropolis managed subway"). 
While you can buy tickets each time you need to board, it's recommended to get one of the smart cards (Suica or Pasmo). These are rechargeable contactless cards which you can use to pay fare; they can also be used as electronic money to buy things at kiosks and convenience stores, for example. They're available at train/subway stations. 
If you plan to visit other regions and cities outside of Tokyo (such as Kyoto, Osaka, or Hiroshima) by using 新幹線 (Shinkansen), or the super express train, buy the Japan Rail Pass in advance. This will allow you to use transportation at a cheaper price. 
Taxis are available anywhere in the central part of Tokyo, but fare can be expensive. Also, the doors of Japanese taxis open automatically, so don't be surprised!
Other Travel Tips
What to Bring

It's recommended to have some Japanese Yen in cash while you're traveling in Japan. Although there are many places where credit cards and Smart Pay are available, cash transactions are still big in Japan, especially at local stores and restaurants.

You should also buy a SIM card so you can use the internet on your phone at the airport. Availability of free public wifi is still limited even in Tokyo, although there's free wifi at most of the JR and Subway stations as well as in the main touristic areas. Internet access is the most useful thing for traveling!

In case of an unexpected rainy day, a foldable umbrella would be useful; you can buy one at any convenience store in Japan. As a matter of fact, you can find almost anything you could need in Japan—especially in Tokyo—so don't worry too much!
Emergency

In case of an emergency, here are some important phone numbers you can call for free:

110: 警察 (Keisatsu) – "Police"
119: 救急車 (Kyūkyūsha) – "Ambulance"
119: 消防 (Shōbō) – "Fire Fighting"

You should also find the telephone number and location for an embassy of your country in advance; this will be useful in case you lose your passport or run into a similar issue.
2. Must-See Places for a 1-3 Day Trip
Just a couple of days isn't enough to experience what Tokyo has to offer, but if you plan to stay in other regions and spare a few days in Tokyo, the following cities and areas are not to be missed!
新宿 (Shinjuku)
Shinjuku is the busiest city in Tokyo. The Shinjuku Station is the hub of many extended lines that connect to various regions, including the surrounding prefectures.
Shinjuku itself is a big city which can be divided into different areas, each with its own unique aspects.  
From the center of the station, there are a few key places to visit, outlined below. Note that it's very easy to get lost around the Shinjuku Station because there are hundreds of exits and paths, both underground and aboveground. Make sure you have Google Maps with you.
West (West Exit) 

After passing the Izakaya bars close to the station, you'll find a range of skyscraper buildings, most of which are offices and luxury hotels. One of the tallest buildings is the Tokyo Metropolitan Government Building. Its observatory on the 45th floor (202m from the ground) is very famous and it's popular among tourists as well as locals. What's even more amazing is that it's free of charge to visit!

Drinking a cocktail at the "Peak Bar" of Park Hyatt Tokyo on the 41st floor will take you to the world of the movie Lost in Translation.
Southeast & East (South Exit and Central East Exit) 

There are thousands of dining bars and restaurants here, but this area is especially a paradise for shopping-lovers! There are many department stores and large shopping buildings, starting from above the station itself. In addition to clothing and fashion shops, there are also mega electronic stores that are not to be missed. Even if you don't purchase anything, just window shopping can be very interesting.

Further southeast, there is an oasis in the midst of the Tokyo Desert (a metaphor for a crowded city with buildings, neons, and concrete), which is 新宿御苑 (Shinjuku Gyoen National Garden). You'll enjoy relaxing in the beautiful Japanese garden after your time in the hustle and bustle of the city areas.
Northeast (East Exit) 

There are thousands of bars and restaurants here as well, but this area—known as 歌舞伎町 (Kabukichō)—is famous for its nightlife and for being a red-light district. There are thousands of neons around Shinjuku that never go off and it's a city that never sleeps. When you walk around this area at night (it's safe to walk around at night), you'll see some interesting people.

Some of the most popular places to visit in this area among tourists are ゴールデン街 (Golden Gai) and ロボットレストラン (Robot Restaurant). Golden Gai is a small area which preserves the traditional small buildings for restaurants and bars. Its retro atmosphere reminds one of the old times and foreigners find it fascinating. Robot Restaurant is literally a restaurant that features huge robots which people can actually get on.

Throughout the area, customers can enjoy shows while having meals and drinks in the colorful restaurants decorated with thousands of flashy neons.
The observatory in the Tokyo Metropolitan Government Building is one of the most famous observatories in Tokyo.
渋谷 (Shibuya)
Shibuya is known as the epicenter of younger generations, new cultures, and venture and startup businesses. The city has everything that young people and trendsetters need: fashion shops, art galleries, shared workspaces, hip cafés and bar restaurants, night clubs, entertainment facilities, and the list goes on. 
If you're interested in Japan, you may have seen a picture of Shibuya's iconic scramble crossing where thousands of people cross the street in just a few minutes. While chaotic, this crossing is also rather organized and reputable because Japanese people follow the traffic lights decently—even during the more hectic times of year like Halloween and New Year's Eve. Another iconic feature is the faithful dog Hachiko statue in front of the Shibuya Station; the story behind it is so famous that it even became a Hollywood movie.
Shibuya is another energetic city that never sleeps, as youngsters enjoy drinking and clubbing all night long till dawn.
Shibuya Crossing is famous for thousands of people crossing in a couple of minutes.
原宿 (Harajuku)
Harajuku is famous for new fashion and the "Kawaii" culture of the younger generations, especially teenagers and those in their early 20s. 
There are thousands of trendy fashion shops, hair salons, and cafés on every street in Harajuku. The most famous streets, which have recently become a bit too touristy, are 竹下通り (Takeshita Dōri) and キャットストリート (Cat Street).
If you keep walking east, there's a big main street for high fashion called 表参道 (Omotesando Street), where many fashion-conscious people love to go. At the end of Omotesando Street, there's another trendy area called 青山 (Aoyama). Here, there are many chic fashion shops, hair salons, art galleries, fancy bars, and trendy restaurants. This area is regarded as a sophisticated city for stylish adults. You might even have a chance encounter with Japanese celebrities! 
Harajuku is a city within Shibuya Ward, which is the first municipality in Japan to acknowledge same-sex partnership. In addition, Harajuku and Shibuya lead the new LGBTQ+ culture. The biggest rainbow parade in Japan is conducted in Harajuku every year.
While the Harajuku area is renowned for its openness to new cultures, you can also find old Japanese traditions preserved here. A great example is the 明治神宮 (Meiji Shrine). Located just behind Harajuku Station, it's one of the largest and most famous shrines in Tokyo. Here, VIPs conduct festive events and celebrities have traditional Japanese weddings.
Right next to Meiji Shrine, there is 代々木公園 (Yoyogi Park) where you can find flea markets, world food festivals, and other events on the weekend. 
明治神宮 (Meiji Jingu Shrine) is the most famous and important shrine in Tokyo.
皇居 (Imperial Palace and Imperial Garden)
In order to deepen your understanding of the hearts of Japanese people, it's recommended to visit the Imperial Palace and gain insight on the Imperial House system. 
Located right in the center of Tokyo (next to Tokyo Station), the Imperial Palace is a symbol of Japan. To enroll in a guided tour of the Imperial Palace and walk around the beautiful Imperial Garden, you have to queue in the time slots which are limited per day. Make sure you check the opening schedule on their official website (there's an English page). 
The surroundings of the Imperial Palace are stunning during cherry blossom season, as you can see hundreds of beautiful cherry trees along the moat of the palace.  
The architecture and landscape of the Imperial Palace and Imperial Garden represent the ultimate sense of Japanese beauty. That said, you may be surprised to see that it's far from luxurious when compared to palaces in Europe. The Japanese sense of beauty values simplicity and quality rather than luxury.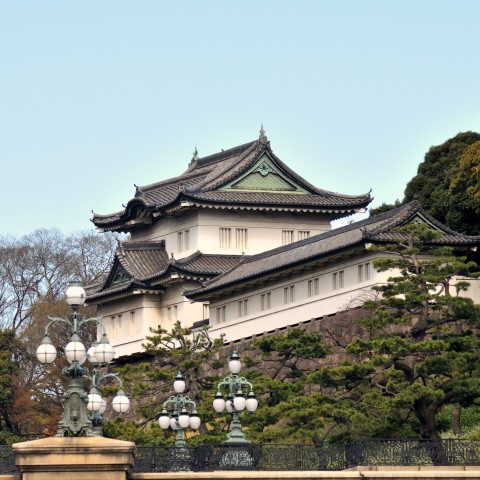 The Japanese Imperial Palace is located close to Tokyo Station.
浅草 (Asakusa)
In Tokyo, you can find both old and new traditions downtown. In Japanese, downtown is called 下町 (Shitamachi), and literally translates to "down town." It's the physically low part of central Tokyo along the east side of the Sumida River, and it refers to areas that are traditional and rooted in local communities from the Edo period.
Asakusa is one such Shitamachi city in Tokyo. The most famous things here are:
雷門 (Kaminarimon) – "Thunder Gate"
浅草寺 (Sensō-ji Temple)
仲見世通り (Nakamise Dōri) – the street that approaches the temple
Along the lively street of Nakamise Dōri, there are hundreds of gift shops that sell a variety of traditional Japanese goods, arts, and crafts, as well as traditional snacks and sweets. 
After visiting the temple and tasting some delicious Japanese snacks, you can enjoy strolling around the Asakusa area or riding on the 人力車 (Jinrikisha) or Rickshaw ("human-powered vehicle"), which is pulled by a man dressed in traditional clothing.
Or, you can also enjoy the river cruise. Right next to Asakusa is the mighty Sumida River, along which there are many landmarks. These include the Tokyo Skytree Tower and the huge golden sculpture on the Asahi headquarters building. From the pier near Asakusa Station, you can cruise up to 日の出 (Hinode Pier), お台場 (Odaiba) Marine Park, 浜離宮 (Hama-rikyu Japanese Gardens), and 豊洲 (Toyosu).
The 雷門 (Kaminarimon Gate of Sensō-ji) Temple is a popular site for taking pictures.
上野 (Ueno)
Ueno is another well-known Shitamachi city and it has some features that are worth visiting.
Ueno Park: 上野公園 (Ueno Park) is very famous for cherry blossoms and お花見 (O-hanami) parties where people view the blossoms. Even after cherry blossom season, you can enjoy walking around this huge park.
Museums: Next to Ueno Park, there are a range of famous museums, such as the Tokyo National Museum, the National Museum of Western Art, and the Tokyo Metropolitan Art Museum. If you're a fan of art and science, you'll need to set aside more than a day to explore the many museums located here! 
Ueno Zoo: This is the only zoo you can find in central Tokyo. Here, you can meet cute panda bears.
Ameyoko Market Street: アメヤ横丁 (Ameya Yokochō), or アメ横  (Ameyoko) for short, is a bustling market street where you can find a variety of things at relatively low prices: vegetables, fish, dried foods, spices, snacks, utensils, clothing, etc. It's interesting to see the lively markets.
Ueno Park is famous for the beautiful blooming of cherry blossoms and hanami parties.
秋葉原 (Akihabara)
If you're a fan of gadgets, Anime, and Manga, you can't miss this city. Akihabara is known for electronics and Anime/Manga, so it's often called the city of オタク (Otaku), or "geeks," and subcultures.
There are hundreds of shops selling all kinds of electronics and gadgets, video games, Manga comics, Anime figures, cosplay costumes, and accessories. You may also see cosplayers and amateur pop-idols gathering on the street of Akihabara on the weekends, as well as Otaku photographers having photo sessions.
Maid café and other themed cafés (such as a particular Manga comic theme or an animal café where you can see and touch animals such as cats, owls, or hedgehogs) are also popular and fun to experience!
Akihabara is a famous city in Tokyo, known for Anime and Manga.
3. Highly Recommended Places for a 4-7 Day Trip (or Longer)
Are you planning a longer trip? Great! That means you'll also be able to experience these must-visit Tokyo places. 
お台場 & ゆりかもめモノレール (Odaiba & Yurikamome Monorail) 
Odaiba is the waterfront area of Tokyo Bay. Not only does it have a spectacular ocean and city view, but there are also so many things to enjoy on these artificial islands.
Shopping Malls: There are huge shopping malls here, such as Diversity, Venus Fort, and Aqua City.
Entertainment Facilities: If you're bored of shopping or walking around, there are tons of other things you can enjoy:

Cinema
A Virtual Reality (VR) experience
Joypolis (an indoor amusement park that offers arcade games and amusement rides)
RoundOne/Spoccha

The last place we mentioned is an all-you-can-play amusement center that offers a variety of indoor/outdoor activities. These include bowling alleys, arcade games, karaoke, Manga room, billiards, batting cages, basketball, volleyball, tennis, futsal, driving range, rollerblades, and more.
Museums: The National Museum of Emerging Science and Innovation is fun to explore and allows you to enjoy a huge planetarium. The Tokyo Water Science Museum is an interactive museum where you can learn about water.
Yurikamome Monorail: Running from 新橋 (Shinbashi) all the way to 豊洲 (Toyosu), this monorail system is not only a means of transportation but also a fun ride that allows you to explore the waterfront and enjoy the wonderful 360° view of Tokyo Bay.  
Onsen Hot Spring: 大江戸温泉 (Ōedo Onsen) is a hot spring facility. Onsen is an important aspect of Japanese culture, and you can enjoy Onsen in the central city! When you're tired from walking around all day, you can wash your sweaty body and relax in a hot tub.
Odaiba is located right in Tokyo Bay, which is the artificial land. There is a replica of the Statue of Liberty here.
六本木 (Roppongi)
Roppongi is traditionally known as a city of nightlife, having many bars and popular nightclubs. In addition, many foreign embassies are located around the Roppongi area and lots of expats enjoy the city's nightlife as much as the locals do. This gives the city a sort of international atmosphere.
In recent decades, Roppongi has undergone a variety of new development projects and has become a place to enjoy high-end shopping, fancy restaurants, and posh entertainment thanks to the mega-complex buildings called Roppongi Hills and Tokyo Midtown. Both buildings are huge skyscrapers incorporating office spaces, luxury apartments, shops, restaurants, cafés, movie theatres, a museum, a hotel, an outdoor amphitheatre, and some parks.
Roppongi is famous for night clubs and high-grade shops and restaurants in commercial skyscraper buildings.
銀座 & 築地 (Ginza & Tsukiji)
If you love sophisticated shopping, go to Ginza. 
銀座中央通り (Ginza Chūō-dōri), or Ginza Central Avenue, is the Tokyo version of 5th Avenue in New York. It's very famous for shopping, and its main road turns into a pedestrian precinct that bans cars on the weekends. There are a number of high-end boutiques, department stores, commercial buildings, hair salons, beauty shops, and exclusive restaurants in Ginza. 
Even if you're a budget traveler who's trying to avoid expensive shopping, please don't miss the デパ地下 (Depachika), or "basement floors of department stores," such as those in 銀座三越 (Ginza Mitsukoshi) and 松屋銀座 (Matsuya Ginza). There are thousands of delicious choices of sweets, delicatessen foods, and ingredients sold in Depachika and it's all worth tasting!
If you're interested in the traditional Japanese Kabuki theatre, visit 歌舞伎座, or Kabukiza Theatre, in Higashi Ginza (East Ginza). Kabuki is a classical dance-drama which has more than 400 years of history behind it and is registered as an Intangible Cultural Heritage of UNESCO. You have to buy tickets in advance to see a Kabuki performance, but you can also visit the Kabukiza building if you just want to buy souvenirs.
If you keep walking southeast from Ginza, you'll enter the 築地 (
Tsukiji
) area. It's traditionally famous for the world's biggest fish market, called
築地市場 (Tsukiji Shijō)
, as well as its tuna bidding (マグロの競り). The fish market itself was relocated to 豊洲 (
Toyosu
) in 2018, but there are still many sushi restaurants and seafood shops just outside the area of the old market. Tsukiji is home to 江戸前寿司
(
Edomaezushi
), or Tokyo-style sushi, and it remained a famous place to eat fresh sushi even after the relocation of the fish market.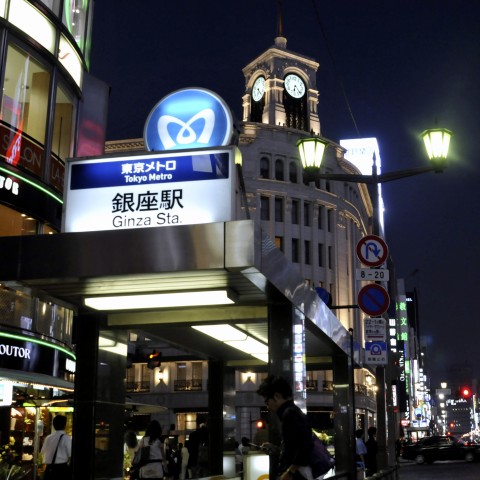 Ginza is a high fashion street that turns into a pedestrian precinct that bans cars on weekends and national holidays.
東京タワーとスカイツリー (Tokyo Tower and Skytree)
If you want to visit iconic landmarks and see the city of Tokyo from different angles, Tokyo Tower and Skytree Tower are both wonderful options. 
Established in 1958, Tokyo Tower is one of the earliest landmarks in Tokyo. It's 333m tall, which is taller than the famous Eiffel Tower in Paris at 300m. Tokyo Tower has two observatories: the main deck at 150m and the top deck at 250m. You'll get to enjoy a stunning 360° view of the world's metropolitan city.
Tokyo Skytree is a relatively new landmark, established in 2012. The tower is 634m and it's the tallest building in Japan. The observatory is 450m above the ground, and there are also restaurants with skyscraper views. In addition to taking in the view, you can enjoy shopping and cinemas in the complex commercial building.
Tokyo Skytree, the tallest tower in Japan, is the new iconic tower of Tokyo.
東京ディズニーランド & ディズニーシー (Tokyo Disney Resort & DisneySea)
Whether you're a Disney fan or not, the Tokyo Disney Resort is worth visiting—especially Tokyo DisneySea, which is the only sea-themed Disney park in the world! You'll experience something amazing and unique that can only be found in Tokyo. Located right next to Tokyo in the Tokyo Bay, it will take you to a dream world with a scent of sea breeze. The parks are very crowded on weekends and holidays, so it's recommended to visit during weekdays.
Tokyo DisneySea is the only sea-themed Disney park in the world.
Outside of Central Tokyo
There are many more cities outside of Tokyo's city center. 
If you have plenty of time, take a twenty-minute ride on the Chūō Line of the JR train from Shinjuku to visit 吉祥寺 (Kichijoji). There are shopping department stores, shopping arcades, movie theaters, and 井の頭公園 (Inokashira Park) which is often used as a shooting location for TV dramas and movies.
Also, if you're a big fan of Ghibli movies and director 宮崎駿 (Hayao Miyazaki), you can visit Studio Ghibli Museum in 三鷹 (Mitaka) to immerse yourself in the world of Ghibli. Make sure you make a booking in advance.
If you're a fan of Ghibli Anime movies, the Ghibli Museum is worth visiting.
4. Nature and Outdoor Activities in Tokyo
Don't be surprised that there are mountains in Tokyo! As a prefecture, Tokyo Metropolis spreads to the mountains in the west. Believe it or not, Tokyo has an abundance of nature less than two hours from the central city. 
Following is a list of places that are worth visiting when you have a lot of time in Tokyo and want to do something different.
高尾山 (Mt. Takao)
Located two hours away when taking a train from the Shinjuku 中央本線 (Chūō Line), Mt. Takao is one of the most-visited mountains in Tokyo. The mountain is just 599m above sea level, and it offers an easy hiking/climbing path while allowing you to get out in the fresh air and enjoy the spectacular nature view. You don't need a heavy set of gear for the mountain, but sneakers are a good idea.
Once you come down from the mountain, you can refresh and relax at the Onsen facility called 極楽湯 (Gokurakuyu). 
奥多摩 (Okutama)
Okutama is another popular destination from the city center, and it's a two-hour train ride from Shinjuku and at the end of the train line 青梅線 (Ōme Line). Basically, Okutama is in a location between mountains where you'll find 奥多摩湖 (Lake Okutama), valleys and rivers, a water dam, 日原鍾乳洞 (Nippara Limestone Caves), and more.
You can enjoy hiking in the forests, fishing, rafting, canyoning, BBQ by the riverside, local cuisine, and the Onsen hot spring at もえぎの湯 (Moeginoyu). There are also camping sites and lodges for overnight stays.
秋川 (Akigawa)
Akigawa is another great option for nature and outdoor activities. It's about 1.5 hours by train from Shinjuku to the final station of 武藏五日市線 (Musashi-itsukaichi Line).
It's a popular spot for hiking in the forest, fishing, BBQ, and riverside activities in 秋川渓谷 (Akigawa Keikoku Valley).
There are also Onsen hot spring facilities at つるつる温泉 (Tsurutsuru Onsen) and 瀬音の湯 (Seotonoyu Spa), where you can relax in an open‐air bath with beautiful views of nature and the greenery. Onsen facilities also offer massages and restaurants where you can taste local cuisines. 
If you want to stay overnight, there are camping sites and lodges.
5. Japanese Survival Phrases for Travelers
Due to Tokyo's diverse cultural scene and immense size, many younger Japanese people do pretty well with English. That said, knowing at least a few Japanese phrases will make your whole trip go a lot smoother and allow you to form deeper connections with locals. Here are just a few survival phrases you should definitely try to memorize before your trip! 
Hello. 
Japanese: こんにちは (Kon'nichiwa)
Example
こんにちは、私たちはカナダから来ました。
Kon'nichiwa, watashi-tachi wa Kanada kara kimashita.
"Hello, we come from Canada."
Thank you.
Japanese: ありがとう (Arigatō)
In order to say it more politely, add ございます (gozaimasu) so that it becomes: ありがとうございます (Arigatō gozaimasu).
For the past tense, add ございました (gozaimashita).
Example
親切にしていただき、ありがとうございます。
Shinsetsu ni shite itadaki, arigatō gozaimasu.
"Thank you for being kind to me."
Goodbye.
Japanese: さようなら (Sayōnara)
Example
どうもありがとうございました、さようなら。
Dōmo arigatō gozaimashita, sayōnara.
"Thank you very much, goodbye."
I'm sorry.
Japanese: すみません (Sumimasen)
Sumimasen is a very useful phrase that can also be used to say, "Excuse me."
To express a deeper apology, you can also say ごめんなさい (gomen nasai) or, more politely, 申し訳ございません (mōshiwake gozaimasen). This is something you would hear staff members/businesspeople saying to customers.
Example
[When you bump into someone or take someone else's baggage by mistake]
すみません! 
Sumimasen!
"I'm sorry!"
To learn more on the topic, please read our articles about Japanese Etiquette and How to Say Sorry.
I don't understand. / I don't know.
Japanese: わかりません (Wakarimasen)
Example
すみません、日本語がわかりません。
Sumimasen, Nihon-go ga wakarimasen.
"Sorry, I don't understand Japanese."
Is there anyone who speaks English?    
Japanese: 英語を話せる人はいますか。(Eigo o hanaseru hito wa imasu ka.)
Example
すみません、英語を話せる人はいますか。
Sumimasen, Eigo o hanaseru hito wa imasu ka.
"Excuse me, is there anyone who speaks English?"
Where is the restroom?
In Japanese: トイレはどこですか (Toire wa doko desu ka.)
Example
ここから一番近いトイレはどこですか。
Koko kara ichi-ban chikai toire wa doko desu ka.
"Where is the nearest restroom from here?"
How much is it?
Japanese: いくらですか (Ikura desu ka.)
Example
これはいくらですか。
Kore wa ikura desu ka.
"How much is this?"
I want/take this.
Japanese: これをください (Kore o kudasai)
Example
[While pointing out what you want on the menu or at a store:]
これをください。いくらですか。
Kore o kudasai. Ikura desu ka.
"I'll have this. How much is it?"
For more useful phrases for restaurants, please check out our vocabulary lists of Vocabulary and Phrases at the Restaurant and Restaurant.
Help!
Japanese: たすけて! (Tasukete!)
In order to say it more politely, add ください (kudasai) to make it: 助けてください (Tasukete kudasai).
Example
助けてください! 友達が事故にあいました。
Tasukete kudasai! Tomodachi ga jiko ni aimashita.
"Please help! My friend had an accident."
To learn more useful travel phrases, please read our article on Japanese Travel Phrases.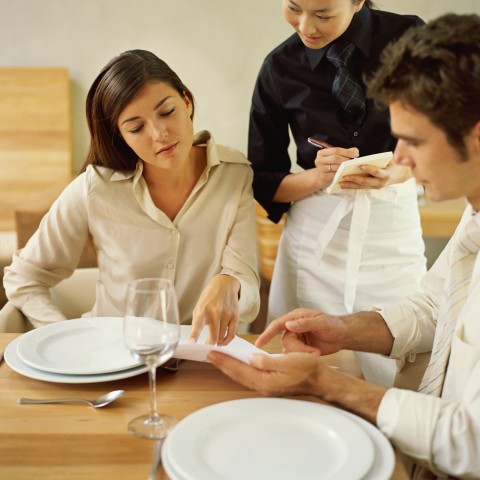 これをください (Kore o kudasai) – "I'll have this one."
How JapanesePod101 Can Help You Learn More Japanese
In this article, we introduced the must-visit places in Tokyo, gave you an overview of the city, presented you with useful travel tips, and went over a few practical Japanese travel phrases. I hope you enjoyed this article and that it made you feel like traveling to Tokyo right away! Which of the locations we mentioned is first on your list, and why? 
If you would like to learn the Japanese language together with cultural information, you'll find a lot more helpful content on JapanesePod101.com. We provide a variety of free lessons to help you improve your Japanese language skills. Here are some pages with useful words and phrases for Japan travel:
You can also get personal one-on-one coaching through our MyTeacher service, which is available when you subscribe for a Premium PLUS membership. Your private teacher will help you practice pronunciation and give you personal feedback to help you constantly improve.
And there's so much more! Enjoy studying Japanese with JapanesePod101.com!