When learning a new language, people encounter words and expressions which can't be clearly translated into that language. Japanese is no exception. Japanese has various untranslatable words which need to be explained with concepts, contexts, or situations in order to grasp the true meaning and nuance these original words have. Japanese phrases with no English equivalent are both fun and important to learn during your language studies.
Much like in other languages, Japanese untranslatable words reflect the Japanese culture. By learning untranslatable Japanese words, you'll also gain insight into unique Japanese views, values, and philosophies. Japanese words that are untranslatable often prove interesting to other cultures, and in fact, there are quite a few beautiful untranslatable Japanese words for you to discover!
Here's our list of Japanese untranslatable words with no direct English equivalent (though these are just our favorite untranslatable Japanese words).
Table of Contents
Start with a bonus, and download the Must-Know Beginner Vocabulary PDF for FREE! (Logged-In Member Only)

1. いただきます (Itadakimasu)
Literal Translation: I eat/receive. (In a humble and respectful way)
Meaning: "I'm thankful for food and I start to eat."
Example Situation:

Before you start to eat a meal (whether it be breakfast, lunch, or dinner), you say Itadakimasu.

Example:

美味しそうなラーメン!いただきます。
Oishisō na Rāmen! Itadakimasu.
The Ramen looks yummy! Itadakimasu.

Additional Notes:
In formal Japanese, there are three forms of honorific languages with different levels of politeness: Teinei-go (it shows politeness), Sonkei-go (it respects, honors, and increases the status of the person you're talking to), and Kenjō-go (it lowers your status with humbleness and respect). Itadakimasu is "I eat" in the form of Kenjō-go which express your humbleness to eat.
Itadakimasu is different from "Bon appetit." Itadakimasu is used by a person who starts to eat with gratitude for the food and for the person who cooked it, while "Bon appetit" is used by a person who serves food and means "enjoy food."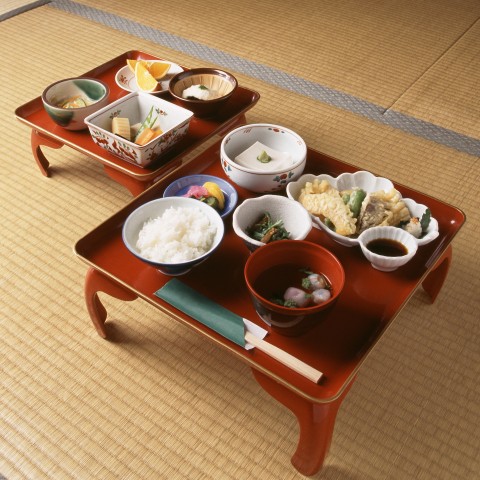 2. ごちそうさま (Gochisō-sama)
Literal Translation: Delicious food; treat; feast; banquet; etc., in a respectful style.
Meaning: "I finished eating and thank you for the food." (With respect) Sama is the term used to express respect.
Example Situation:
When you finish eating a meal, you say Gochisō-sama.
Example:
ごちそうさま。お母さん、今日の夕食はとても美味しかったよ!
Gochisō-sama. O-kā-san, kyō no yūshoku wa totemo oishikatta yo!
Gochisō-sama. Tonight's dinner was really good, mom!
Additional Notes:
This is one Japanese word with no English translation that people around the world can actually relate to. You can say Gochisō-sama when you've finished eating your meal at home, in a restaurant, or really for any occasion. If you want to say it more politely in a more formal situation, you add deshita to the end: Gochisō-sama deshita. It' a good Japanese table manner to say Itadakimasu and Gochisō-sama during meals.
3. お疲れ様 (Otsukare-sama)
Literal Translation: "(You must be) tired." (With respect)
Meaning:
Otsukare-sama has some different meanings depending on the situation, all of which are handy to use. It can mean: "hello," "well done," "you must be tired," "see you," "good-bye,"and so on.
Example Situation:
It can be used to say "well done" or "good job" to praise or to be thankful for someone who finished something. You can also use it to say "you must be tired" to show that you care about someone and that you also know how they must feel. Or it can simply be used as a greeting at an office upon arriving or leaving, or when meeting with colleagues.
Example:
1. 会議でのプレゼンお疲れ様。
Kaigi de no purezen otsukare-sama.
Well done for the presentation at the meeting.

2. お疲れ様です。また明日。
Otsukare-sama desu. Mata ashita.
See you tomorrow. (At office)

Additional Notes:
It becomes more polite when you put desu at the end of Otsukare-sama. It's an expression used when Japanese people want to show their appreciation for the other person's efforts and work with respect. Nowadays, Otsukare-sama desu is a very common greeting in work settings, especially among colleagues.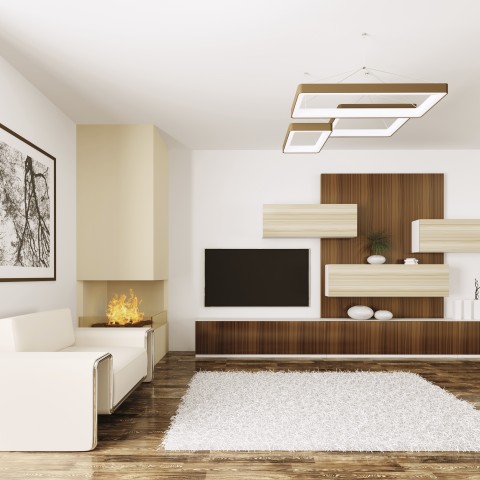 4. おじゃまします(Ojama shimasu)
Literal Translation: "I disturb." (In a humble and polite way)
Meaning:
Let me visit /enter a house. (In a humble and polite way)
Example Situation:
This is the greeting phrase to use when you enter someone's house, especially when you're invited. It's to show gratitude for the host for the invitation and makes you seem polite as a guest.
Example:
おじゃまします。すごく広くて素敵なお家ですね。
Ojama shimasu. Sugoku hirokute suteki na o-uchi desu ne.
Ojama shimasu. Your house is very spacious and nice.
Additional Notes:
In Japan, we usually say Ojama shimasu whenever visiting someone's house. It would be rude to enter someone's house without saying this. When you leave someone's house, you say Ojama shimashita, which is the past tense of Ojama shimasu.
5. もったいない (Mottainai)
Literal Translation: "No dignity/importance."
Meaning: Worthy of a better cause, associated with a feeling of being attached to it and reluctant to throw it away. Mottainai' can mean: "What a waste," "How wasteful," "It is too good for/to ___," "You don't know what you're missing," etc.
Example Situation:
This phrase may be used when something that's still useful or worth something is either not being used, or is going to be thrown away. This can be used for people, opportunities, situations, and so on.
Example:
お腹いっぱいだからと言って、食べ物を捨てるのはもったいないよ。
Onaka ippai da kara to itte, tabemono o suteru no wa mottainai yo.
It is a waste to throw away food only because you are full.
Additional Notes:
This phrase comes from the Japanese mentality which puts value on treating things well and taking good care of things to use them for a long time. While the English word "waste" has negative nuances such as worthless, useless, and unwanted, whose Japanese translation can be "浪費 (rōhi)", in Japanese, mottainai contains positive nuances such as worthy and valuable. It also expresses regret that a thing still useful isn't used to its full potential. This may be one of the most beautiful untranslatable Japanese words.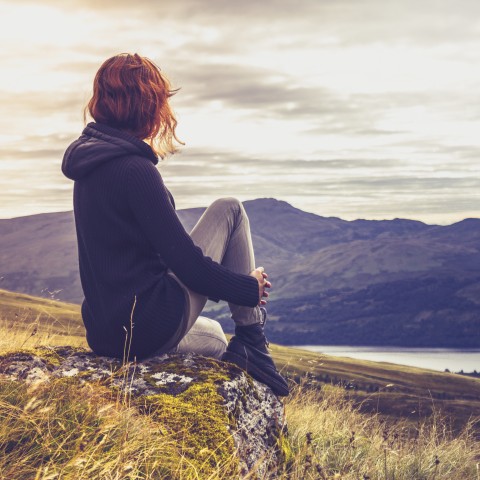 6. 懐かしい (Natsukashii)
Literal Translation: "Nostalgic."
Meaning: A nostalgic feeling you have when you remember and miss something about the past.
Example Situation:
You feel Natsukashii when you find your toys from childhood that you enjoyed playing with. You remember all the childhood memories of playing with that toy with friends and family, and you have nostalgic feelings about it.
Example:
高校の卒業アルバムを実家で見つけた!懐かしい思い出ばかりだよ。
Kōkō no sotsugyō arubamu o jikka de mitsuketa! Natsukashii omoide bakari da yo.
I found the graduation yearbook of highschool at my parents' house. It's full of memories of good old days.
Additional Notes:
It can also be used to express: "The good old days," "Good times," "I miss ___," "It reminds me of ___," "It brings back memories," "I feel nostalgic," etc.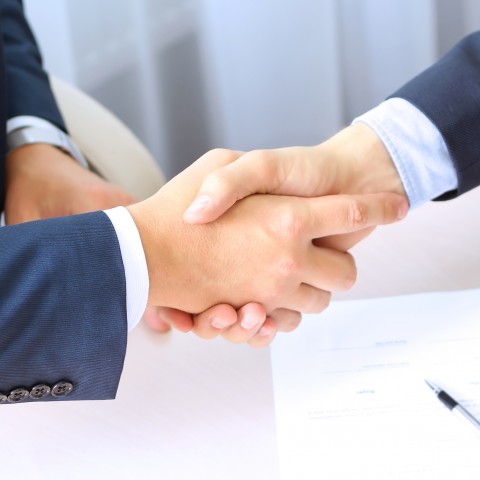 7. よろしくお願いします (Yoroshiku onegai shimasu)
Literal Translation: "Good" / "Right" / "Suitable favor please"
Meaning: It has many meanings, depending on what situation it's used in, and all meanings are quite useful. It can mean: "Nice to meet you," "Best regards," "Favorably please," "Please take care of me," etc., to show your gratitude and humbleness in hoping to have a good relationship from that point forward.
Example Situation:
Yoroshiku onegai shimasu can be used in a variety of situations, especially when you're new to something, such as meeting new people at work, when you start a new job or project, when someone's going to take care of you, etc.
Example:
今日からこのクラスに参加する田中です。よろしくお願いします。
Kyō kara kono kurasu ni sanka suru Tanaka desu. Yoroshiku onegai shimasu.
I am Tanaka who starts this class from today. Yoroshiku onegai shimasu.
Additional Notes:
This phrase is very useful. It doesn't actually have a particular clear meaning and so you can use it for many occasions. It's also used to finish a conversation or email message.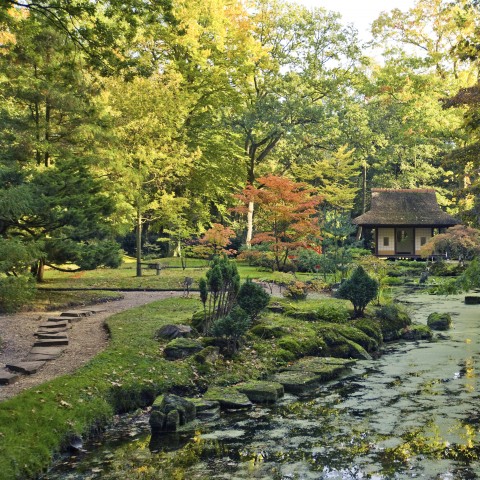 8. 侘寂 わびさび (Wabi Sabi)
Literal Translation: "Frugal" / "Simple and quiet" / "Silent"
Meaning: This is a concept, or view, of Japanese beauty. It accepts and values things which are natural and transient, as well as imperfect, impermanent, and incomplete.
Example Situation: An asymmetrical wooden table with a natural and original shape, as well as the grain of a tree, is a great example of imperfection as an aesthetic according to Wabi Sabi.
Example:
建仁寺は、ミラノの大聖堂のように豪華ではないが、禅のわびさびの風情がある。
Kennin-ji wa, Mirano no daiseidō no yō ni gōka de wa nai ga, Zen no Wabi Sabi no fuzei ga aru.
The Kennin-ji temple isn't gorgeous like Milano Cathedral, but there is the Zen taste of wabi sabi.
Additional Notes:
Wabi sabi is also used to express the concept of valuing simplicity and humility, rather than luxury and impressiveness.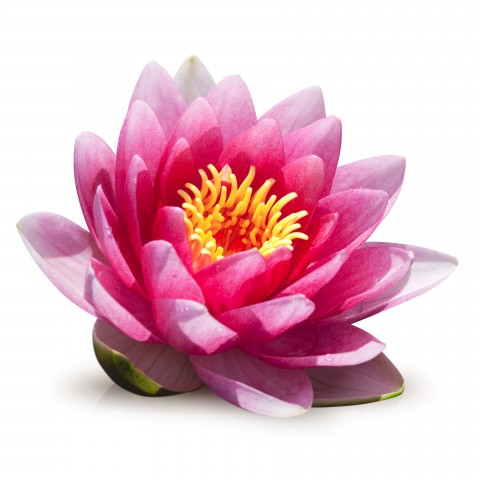 9. 高嶺の花 (Takane no Hana)
Literal Translation: "Flower" (Hana) "in high peak" (Takane).
Meaning:
This is one of the most creative untranslatable Japanese words and describes a woman who seems out of reach and who's not easy to get familiar with. Takane no Hana is a metaphor which comes from the fact that flowers on a high peak on a mountain aren't easily reachable. It also expresses a feeling of admiration.
Example Situation:
If you see someone with a high profile who's super beautiful and has a good personality, you tend to think that she's not easy to become friends with (or even to make her your girlfriend).
Example:
美人なかおりさんは、クラスで一番優秀で大企業の社長令嬢です。学校中で高嶺の花の存在です
 ね。
Bijin na Kaori-san wa, kurasu de ichi-ban yūshū de daikigyō no shachō reijō desu. Gakkōjū de Takane no. Hana no sonzai desu ne.
Beautiful Kaori is the smartest girl in the class and she is the daughter of a large company's CEO. She is Takane no hana in school, isn't she?
Additional Notes:
It's also used to express that a woman is too perfect to be attainable.
10. ありがた迷惑 (Arigata Meiwaku)
Literal Translation: "Thankful" / "Grateful" (Arigatai) / "Troublesome" / "Annoying" (Meiwaku)
Meaning: This phrase is used to describe a situation when someone does something for you that you didn't necessarily want them to do (but you still think you should be grateful for it).
Example Situation:
When your neighbour always shares their food with you, but you never actually like when they do this, you feel that this neighbor's favor is Arigata Meiwaku.
Example:
私の祖母は毎年手編みの手袋をくれます。嬉しいけど使わないから、ありがた迷惑です。
Watashi no sobo wa maitoshi teami no tebukuro o kuremasu. Ureshii kedo tsukawanai kara, Arigata Meiwaku desu.
My grandmother gives me her handmade knitted gloves every year. It's Arigata meiwaku because I'm happy for her favor but I never use them.
Additional Notes:
This phrase reflects the Japanese mentality which puts importance on being polite to others and maintaining harmony without causing conflict. Japanese people can't easily say "No," especially when it comes to favors and offerings because people think saying no will hurt or offend the other person's feelings and would cause some sort of conflict (breaking harmony).
11. Summary of Untranslatable Words in Japanese
In this article, we've gone over common Japanese untranslatable words for language learning, and have also shown you untranslatable Japanese words to English.
These Japanese untranslatable words are very handy to use for expressing situations or your feelings. There are thousands of more untranslatable words in Japanese, including idioms, proverbs, slangs, and even newly coined words.
You'll be able to speak Japanese like a native once you master Japanese untranslatable words, as you also comprehend the Japanese philosophy and mentality behind the country's culture!
We hope we've helped to satisfy your curiosity about untranslatable words from Japanese, and that you found our list of untranslatable Japanese words helpful!
12. Conclusion: How Japanesepod101 Can Help You Learn More Japanese
If you would like to learn more about the Japanese language, you'll find a lot of useful content on JapanesePod101. We provide a variety of free lessons for you to improve your Japanese language skills.
If you're a beginner learner of Japanese, you'll find the following useful:
If you're at the intermediate level, we recommend:
You'll enjoy learning the Japanese language by watching videos and listening to actual Japanese pronunciation.
Happy Japanese learning with JapanesePod101!
Start with a bonus, and download the Must-Know Beginner Vocabulary PDF for FREE! (Logged-In Member Only)