In Japan, Children's Day is celebrated each year as a way of wishing good health and success for its youth. When it comes to Children's Day, Japan's history (and that of ancient China) plays a huge role. While the Children's Day Festival in Japan was founded on ancient myths and beliefs, many of its traditions remain in place today.
In learning about Children's Day Japan activities, you're opening your eyes to new concepts and cultural aspects of the country of your target language. At JapanesePod101.com, we hope to make learning about Japanese culture both fun and insightful! So let's get started on our lesson about the Children's Day Festival Japan holds each year.
1. What is Children's Day in Japan?
The Boys' Festival is an event that began when the Chinese custom of exorcizing evil spirits with herbs made its way to Japan. In Japan, it has been celebrated as a traditional event since ancient times to pray for the healthy growth of boys. These days, not only boys, but also girls participate in the celebration, which is also known as Children's Day, a national holiday in Japan.
2. When is Children's Day?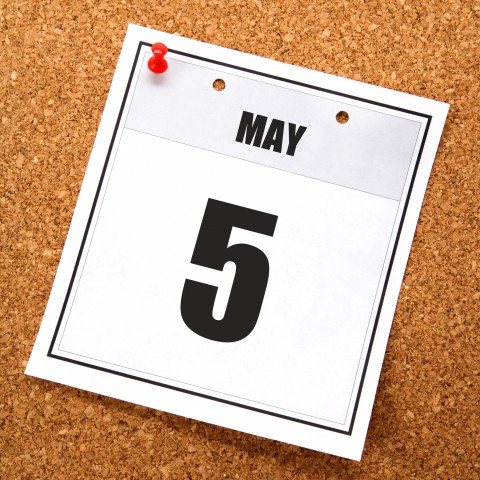 Each year during Golden Week, Japan celebrates Children's Day on May 5.
3. Reading Practice: How is Children's Day Celebrated?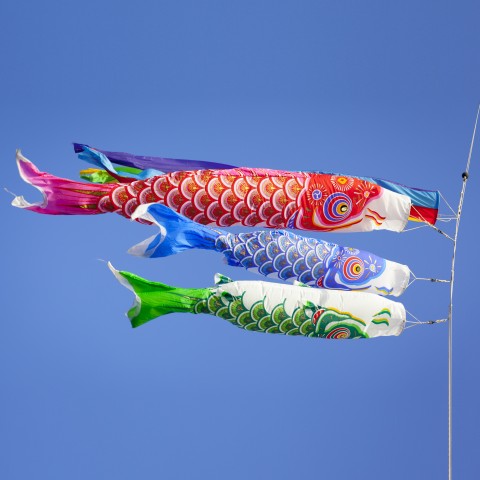 How do the Japanese celebrate Children's Day? Read the Japanese text below to find out, and find the English translation directly below it.
—
5月5日の端午の節句が近づくと、家の外やベランダ、公園などに、「鯉のぼり」が飾られます。鯉のぼりとは魚の形をした吹き流し(ふきながし)のことです。中国に古い話があります。登竜(とうりゅう)という激しい流れの川を鯉が登ったそうです。そして、そのこいは龍(りゅう)になりました。この話から、「こどもがえらくなりますように」とのねがいをこめて、こいのぼりがかざられるようになりました。たいてい、大小さまざまなサイズの鯉が飾られ、一番大きい鯉はお父さん、次に大きいものはお母さん、小さいものは子供と、家族を表していると言われています。
また、家の中では、「よろい」や「かぶと」をかざります。昔、武士は戦いのとき、身を守るためによろいや兜(かぶと)を身につけました。そこで、男の子の体を守るという意味から、よろいやかぶとを飾るようになったのです。また、「五月(ごがつ)人形」と呼ばれる人形も飾ります。一般的なものには、武士の格好をした男の子や、菱形(ひしがた)の前掛け(まえかけ)をした「金太郎(きんたろう)」があります。
そして、端午の節句には柏餅(かしわもち)を食べます。柏餅はあんこを二つ折りにした餅ではさんで、柏の葉でつつんだ和菓子です。「かしわ」という植物は新しい芽がでるまで古い芽が落ちません。そのことから、「家系がずっと続いていく」、つまり「子孫繁栄(しそんはんえい)」を願って食べられています。
地域によっては「ちまき」も食べられています。ちまきとは中国由来(ゆらい)の食べ物で、笹などの葉でもち米を包んで蒸したもののことです。
—
As Boys' Festival on May 5th approaches, the outsides of houses, verandas, parks, and so on are decorated with Koi ("Carp") Streamers. Koi streamers are streamers made in the shape of a fish. There is an old tale from China that tells of a koi that appeared to have climbed a dangerous river known as Tōryū. This koi then became a dragon. It is from this story that koi streamers came to be decorated alongside wishes for "children to become mighty." Usually, koi of various sizes are decorated, with the largest koi said to be the father, the next largest the mother, and the smaller koi the children. These koi are said to represent the entire family.
Also, the insides of homes are decorated with armor and helmets. In ancient times, when a samurai would fight, they would wear a helmet and armor to protect themselves. It is from this tradition that helmets and armor became decorations, because they were said to protect the boy's body. There is also a doll known as a go-gatsu ningyō or "May doll." Typically, they are boys dressed as samurai, and Kintarō with diamond-shaped aprons.
Kashiwamochi is eaten on Boys' Festival. Kashiwamochi is a kind of sweet made by stuffing rice cakes with bean paste. The old buds of the kashiwa, or "oak," do not fall until a new bud appears. They are eaten with the desire that the "family tree will continue forever," or in other words, for the "prosperity of descendants."
Some regions also eat chimaki. Chimaki is a food derived from China, which is made by wrapping steamed glutinous rice with leaves, such as bamboo grass.
4. Additional Information: The Iris
There is a special flower for the Boys' Festival; Japanese use it for celebration just like they do the flower for the Hinamatsuri ("Doll Festival"). Which flower do you think it is?
It's the iris. The leaves of the iris have a strong fragrance, and people in ancient China believed that this fragrance exorcized evil spirits. The placing of iris into baths for health, and into sake for drinking, formed the beginnings of the Boys' Festival. These days, there are also families that take baths called shōbuyu meaning "floating iris leaves."
5. Must-know Vocab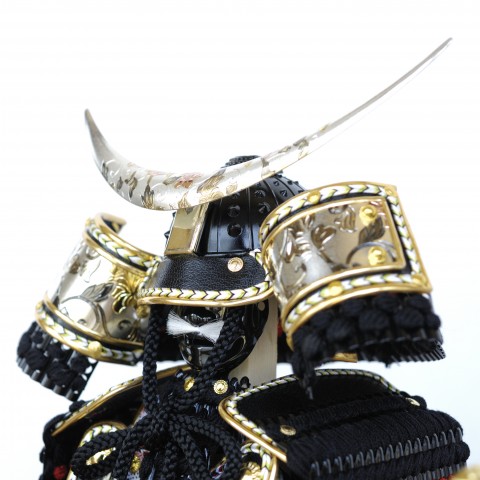 Here's some vocabulary you should know for Children's Day in Japan!
菖蒲 (しょうぶ) — iris
端午の節句 (たんごのせっく) — Boys' Day celebration
子供の日 (こどものひ) — Children's Day
緋鯉 (ひごい) — red carp
五月五日 (ごがつ いつか) — May 5th
鯉のぼり (こいのぼり) — koinobori
柏餅 (かしわもち) — kashiwamochi
かぶと (かぶと) — kabuto
五月人形 (ごがつ にんぎょう) — doll for the Boys' Festival in May
真鯉 (まごい) — black carp
菖蒲湯 (しょうぶゆ) — bath with iris leaves in it
鎧 (よろい) — armor
吹流し (ふきながし) — streamer
ちまき (ちまき) — chimaki
To hear each vocabulary word pronounced, visit our Japanese Children's Day vocabulary list, where you'll find each word accompanied by an audio file of its pronunciation.
Conclusion
What do you think of Japan's Boys' Festival celebration? Does your country observe a similar holiday? Tell us about it!
To learn more about the culture in Japan and the Japanese language, visit us at JapanesePod101.com. We provide our students with insightful blog posts on various topics, free vocabulary lists, and even on online community to discuss lessons with fellow Japanese students. And if you prefer a one-on-one learning experience, you can learn Japanese with your own personal Japanese teacher through our MyTeacher program!
Know that all of the hard work you've put into your language-learning journey and your strong determination will pay off! You'll be speaking Japanese before you know it, and JapanesePod101.com will be here for each step on your way there. Best wishes!