Are you planning to travel to Japan in August? It's in the height of summer and very hot across Japan, though it's also the best season for traveling.
In August, there are many fun events to look forward to such as summer festivals and firework displays. August is also a great month for outdoor activities like going to the beach, participating in water activities in Japan's rivers, and hiking.
Table of Contents
August is one of the peak seasons for traveling in Japan, but in order to get the most out of it, you need to plan earlier. One thing to keep in mind is that Japanese students have summer vacation from July to August.
Also, there is お盆休み; おぼんやすみ (obon yasumi) or the "Obon holiday" in August, for which people go back to their hometown and visit their parents. The Obon holiday is usually from the 13th to the 15th. Some people take their summer holiday with the Obon holiday, so that it can last a little longer.
In this article, I'll introduce you to things to do in Japan during August. I'll also explain what the weather in August is like so that you can better prepare yourself in advance. Here you'll find some of the best ideas for your fun trip to Japan in August.
1. Weather in August
It's very hot and humid in Japan during the month of August. The average temperature in August is around 26 to 28 degrees Celsius (78.8 to 82.4 degrees Fahrenheit). In many places, it even gets higher than 30 degrees Celsius (80 degrees Fahrenheit) during the day—and it gets higher still than 35 degrees Celsius (95 degrees Fahrenheit) in a few places.
Since Japan is long from north to south, there are differences between the weather in each of these two sections of Japan. The northe
areas—such as Hokkaido—are less hot. However, in early August, it sometimes gets higher than 30 degrees Celsius (80 degrees Fahrenheit).
Of course, the southe
areas, such as Okinawa, are hotter. Further, big cities like Tokyo and Osaka tend to be hot and humid, and so many buildings use air conditioners. So you have to be ready for the heat no matter where you visit in Japan during August.
The average temperatures of popular sightseeing areas are as follows:
Sapporo, Hokkaido: 22 to 23 degrees C (71.6 to 73.4 degrees F)
Sendai, Miyagi: 24 to 26 degrees C (75.2 to 78.8 degrees F)
Tokyo: 27 to 29 degrees C (80.6 to 84.2 degrees F)
Kyoto: 28 to 29 degrees C (82.4 to 84.2 degrees F)
Hakata, Fukuoka: 27 to 30 C (80.6 to 86 degrees F)
Naha, Okinawa: 28 to 30 C (82.4 to 86 degrees F)
Typhoons
In August, you should be careful about 台風,たいふう (Taifū) or "typhoons." A typhoon is basically the same thing as a hurricane, but it occurs in the northe
Pacific.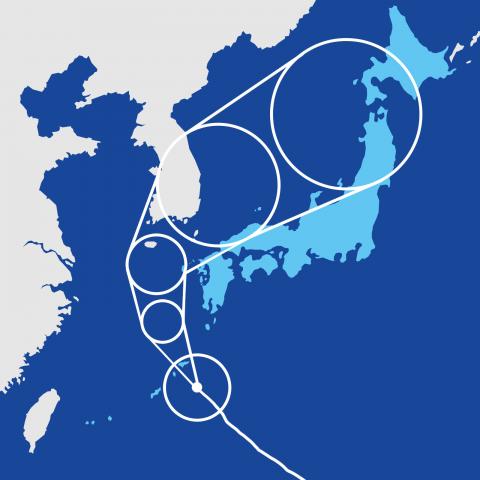 Typhoons are very dangerous. Unfortunately, if a typhoon hits where you are during travel, you'll have to stay inside of a building. When a typhoon comes, many domestic air flights get cancelled as well. Sometimes, a typhoon can cause Japan to get rain for up to a week!
You should be especially careful if you go to a southe
area like Okinawa, Kyushu, or Shikoku. Typhoons tend to get weak as they move north, and usually don't hit the northe
parts, such as Hokkaido.
2. What to Wear in August
Since it's very hot in Japan during August, I recommend you wear T-shirts or short-sleeved shirts. But keep in mind that you have to be careful when visiting a sacred place such as a shrine or temple, meaning especially that you shouldn't wear sleeveless. Most religious places aren't too strict about casual clothing, but sleeveless might be too casual for most.
3. Summer Festivals
In August, there are many summer festivals across Japan. In Japanese, summer festivals are called 夏祭り; なつまつり (natsumaturi). 夏; なつ (Natsu) means "summer" and 祭り; まつり (matsuri) means "a festival."
1- Types of Festivals
Summer festivals were originally Shinto's (神道; しんとう) religious events and most 神社; じんじゃ (Jinjya) or "Shinto shrines" have summer festivals. Each religious summer festival has meaning. For example, people pray for a bumper crop at some summer festivals.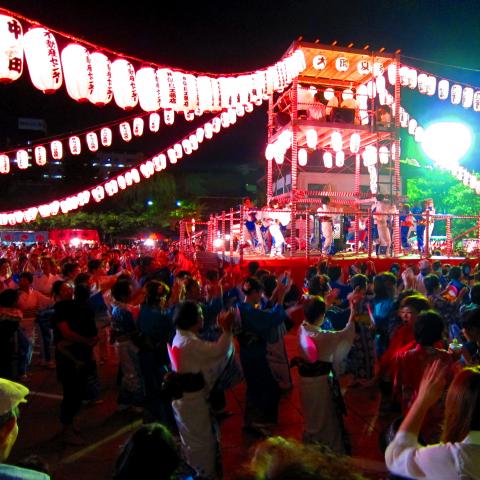 At some festivals, you can see mikoshi (神輿; みこし). Mikoshi is a portable shrine and is a carriage for gods. People carry the mikoshi and walk streets, while yelling "Wasshoi, Wasshoi," which can be a little overwhelming. The word Wasshoi (わっしょい) is just a word for shouting, and most Japanese people don't know the meaning. There are several theories about the origin of this word. Some say that 和; わ (Wa) means "Japan" and しょい (Shoi) means "to carry." This would make it mean "to carry the future of Japan."
Today, there are many non-religious summer festivals, too. For example, there are many food festivals, during which you can enjoy the various local foods. Also, many young people enjoy summer music festivals.
2- Japanese Festival Foods and Activities
Foods:
At most summer festivals, there are many 出店; でみせ (demise) or "food stalls" so that you can enjoy walking around and trying various festival foods. You might be surprised by the crowd around demise; at some big festivals, it's hard to even walk because of the crowd.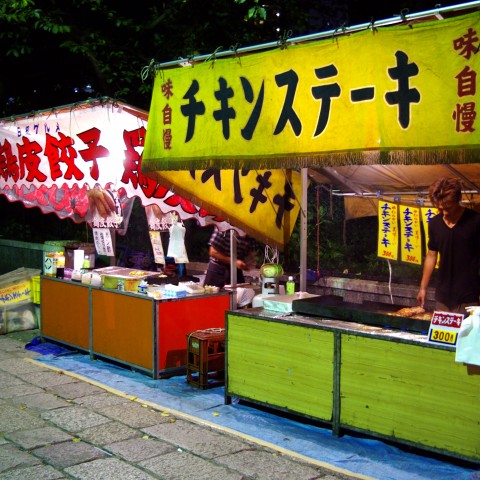 There are many kinds of food at demise. Popular foods include:
焼きそば; やきそば (yakisoba) — "stir-fried noodles with vegetables and meat"
焼き鳥; やきとり (yakitori) — "Japanese style skewered chickens"
たこ焼き; たこやき (takoyaki) — "octopus dumplings"
I also recommend traditional festival food such as:
わたあめ (wataame) — "cotton candy"
りんごあめ (ringoame) — "candy apples"
かき氷; かきごおり (kakigori) — "shaved ice"
Activities:
At most festivals, there are no chairs or tables to eat on. People typically buy their food and eat around demise, which also has some activities for children such as:
ヨーヨー釣り; よーよーつり (Yōyō-tsuri) — "water balloon fishing"
金魚釣り; きんぎょつり (Kingyo-tsuri) — "goldfish scooping game"
射的; しゃてき (Shateki) — "shooting game"
くじ引き; くじびき (Kujibiki) — "lottery stall"
3- Festival Recommendations
If you enjoy big summer festivals, I recommend the following as they are some of the largest summer festivals in Japan:
青森ねぶた祭り; あおもりねぶたまつり (Aomorinebutamatsuri) — "Aomori's Nebuta Matsuri"
仙台七夕祭り; せんだいたなばたまつり (Sendaitanabatamatsuri) — "Sendai's Tanabata Matsuri"
秋田竿燈; あきたかんとう (Akita kantō) — "Akita Kantou"
These festivals are held in the Tohoku area, which is the north part of Honshu.
If you're searching for summer festivals around Tokyo, I recommend:
麻布十番納涼まつり; あざぶじゅうばんのうりょうなつまつり (Azabujūban'nōryōmatsuri) — "Azabu Juban Summer Night Festival"
深川八幡祭り; ふかがわはちまんまつり (Fukagawa Hachiman matsuri) — "Fukagawa Hachiman Festival"
浅草サンバカーニバル; あさくささんばかーにばる (Asakusa sanbakānibaru) — "Asakusa Samba Ca
ival"
If you're searching for summer festivals in the weste
area, I recommend:
京都五山送り火; きょうとござんおくりび (Kyōto gozan'okuribi) — "Kyoto's Mountain Bon Fire"
よさこい祭り;よさこいまつり (Yosakoimatsuri) — "Kochi's Yosakoi Festival"
阿波おどり,あわおどり (Awa Odori) — "Tokushima's Awaodori Dance"
4. Firework Displays
花火大会; はなびたいかい (Hanabi taikai) or "firework displays" are usually held in July and August. As one of Japan's main summer features, there are many firework displays throughout Japan. Most foreign travelers are surprised by Japanese firework displays, despite the fact that they have firework displays in their own countries. This surprise is due to the fact that Japanese fireworks have a long history and developed uniquely.
More than ten-thousand fireworks are launched at the big firework display events. These usually take 1 to 2 hours. You can enjoy various firework displays, and most events are free to watch; however, keep in mind that you may be charged for a seat with a good view.
At most fireworks displays, you can also enjoy demise. Many people enjoy drinking chilled beer and eating various foods during the show.
If you're searching for big firework displays in August, I recommend:
大曲花火大会; おおまがりはなびたいかい (Ōmagari Hanabi taikai) — "National Fireworks Competition in Oomagari Akita"
諏訪湖湖上花火大会; すわここじょうはなびたいかい (Suwako kojō Hanabi taikai) — "Nagano's Lake Suwa Festival Fireworks Show on the Lake"
洞爺湖ロングラン花火大会; とうやころんぐらんはなびたいかい (Tōyako-ko ronguran hanabi taikai) — "Lake Long-Run Fireworks"
At Lake Tayak-ko in Hokkaido you can enjoy firework displays every day during the season.
If you want to see firework displays around Tokyo in August, I recommend:
江戸川区花火大会; えどがわくはなびたいかい — "Edogawa City Fireworks Festival"
あつぎ鮎まつり大花火大会; あつぎあゆまつりおおはなびたいかい — "Atsugi Ayu Fireworks Festival"
八王子花火大会, はちおおじはなびたいかい (Hachiōji Hanabi taikai) — "Hachioji Fireworks Festival"
5. Wearing Yukata
Are you interested in Japanese traditional 着物; きもの or kimonos? If you visit Japan in August, you should try wearing a 浴衣; ゆかた or yukata. A yukata is a casual kind of kimono, and August is the best season to wear one. Many Japanese people wear it at summer festivals and firework displays.
Unlike normal kimonos, there are many inexpensive yukatas. Some yukatas are sold from about three-thousand yen at the cheapest. Also, there are rental yukata shops in big cities like Tokyo, Kyoto, and Osaka. If you go there, they'll dress you in a yukata.
6. Hiking and Mountain Climbing
August is also a great time of year for hiking and mountain climbing. Mountain climbing is a good way to get away from the summer heat.
During this season, there are many hiking tours throughout Japan. I recommend hiking tours on:
知床国立公園; しれとここくりつこうえん (Shiretoko kokuritsu kōen) — "Shiretoko National Park" in Hokkaido
屋久島; やくしま (Yakusima) — "Yakushima" in Kagoshima
The places listed above are World Heritage sites.
If you want to climb a mountain, I recommend Mt. Fuji, as it's the highest mountain in Japan and is one of the symbols of Japan.
7. Beaches and Water Activities at Rivers
August is also the best month for beaches and water activities at rivers.
1- Beaches
You can swim on most beaches in Japan in August. The beaches in Okinawa and the small islands of Kagoshima are particularly beautiful. But do keep in mind that after the Obon holiday, beaches in the northe
Tohoku and Hokkaido areas might be too cold.
If you're searching for beaches, I recommend:
サンビーチ (Sanbīchi) — "Sun Beach" in Atami Shizuoka
宜野湾トロピカルビーチ; ぎのわんとろぴかるびーち (Ginowan toropikarubīchi) — "Ginowan Tropical Beach" in Okinawa
Atami, near Tokyo, is a wonderful place to enjoy hot springs. Also, Okinawa is very south and quite a ways from Tokyo, but the beach is absolutely beautiful.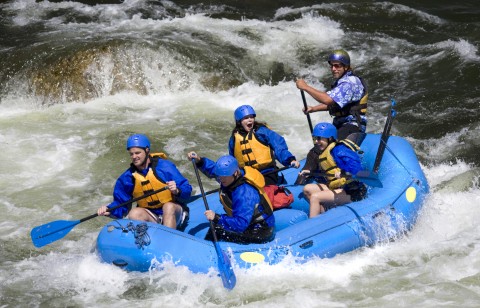 2- Water Activities at Rivers
You can also enjoy water activities on rivers throughout Japan in August. You can go away from high heat in August and enjoy the beautiful nature of Japan.
There are many things to do in rivers on this season. For example, you can enjoy rafting, canoeing, kayaking, and canyoning. There are many tours that you can enjoy these fun activities. At the most tour, you don't have to prepare anything, but you can just go there and have fun.
Especially I recommend, river activities in Niseko (ニセコ) in Hokkaido. Niseko is the very popular sightseeing spot for foreigners and you can enjoy many more activities there. If you want to do water activities in Tokyo, Okutama is a good place.
8. Flower Fields
If you like flowers or gardens, you can enjoy flower fields in August. There are many beautiful flower fields for you to see, especially in Hokkaido, the northe
island of Japan.
One of the most famous flower gardens is a lavender garden in Furano, Hokkaido. The most famous lavender field in Japan is ファーム富田; ふぁーむとみた (Famu Tomita) or "Farm Tomita." Many foreign people visit this farm—even the 天皇; てんのう (Tenno) or "Emperor" of Japan himself has visited this farm.
Unfortunately, the peak season of lavender is in July and it's a little late in August. But if you visit in early August, you still have a chance to see huge, beautiful purple flower fields. Don't worry! Even if you visit in mid- or late-August, there are many other beautiful flowers to enjoy.
There are also many other flower fields near Farm Tomita that you're sure to enjoy.
Other recommendations:
ひまわり畑; ひまわりばたけ (Himawari batake) — "Sun Flower Field: Himawari-Batake" in Gunma
山中湖花の都公園; やまなかこはなのみやここうえん (Yamanakako Hananomiyako Koen) — "Yamanakako Hananomiyako Flower" in Yamanashi, near Mt. Fuji
京都府立植物園; 京都府立植物園 (Kyotofuritsu syokubutsuen) — "Kyoto Botanical Garden"
Conclusion
If you go to Japan in August, I'm sure you'll enjoy the experience. It's very hot, but there are many fun activities and events.
Particularly, I recommend summer festivals and firework displays. At those events, you can enjoy traditional aspects of Japanese culture such as yukatas and various demise. If you want to enjoy the beautiful nature of Japan, August is one of the bests months to do so. You can also enjoy flower fields and summer foods.
Don't forget to plan your trip ahead of time because many people travel during this season. That way, you can get tickets at far better prices, especially on weekends and August holidays when it becomes hard to reserve air tickets. So start searching for tickets as early as possible. I hope you have a great experience in Japan.