Thanks to information technology nowadays, learning Japanese isn't as difficult as you think. You can acquire the language quickly, even if you live outside of Japan and don't have access to native speakers. There are various sources on the internet (like YouTube) that can help you learn Japanese!
While there are plenty of Japanese YouTube channels, not all of them are useful or efficient for learning. Using the right tools and resources is the key to faster and more effective learning, so in this article, we'll introduce the ten best YouTube channels to supplement your Japanese studies.

These channels provide informative and entertaining content, and we'll include channels in a variety of categories. And at the end, we'll show you why the JapanesePod101 YouTube channel is the best place to learn Japanese on YouTube!
Table of Contents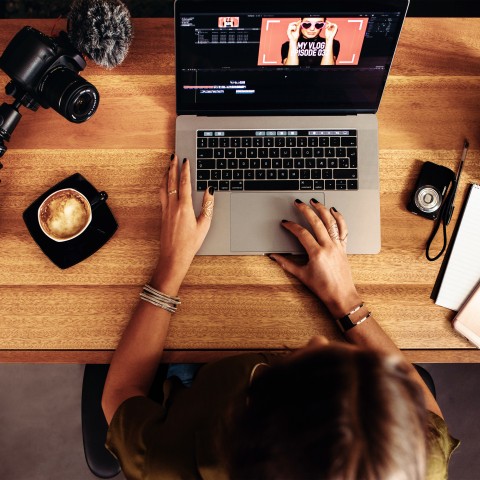 ユーチューブで日本語を学ぼう
(YouTube de Nihon-go o manabō) –
"Let's learn Japanese on YouTube."
Category: News, Documentary, Culture, Language
Level: All
NHK, or 日本放送協会 (Nippon Hōsō Kyōkai), stands for the Japan Broadcasting Corporation, which is Japan's national broadcaster. It has terrestrial and satellite television channels, as well as domestic and international radio networks. 
Their YouTube channel, NHK World Japan, offers a variety of interesting videos, including:
An "Easy Japanese Lessons" series for learning Japanese
News
Sports (Sumo wrestling)
Documentaries on various topics about Japan
Much more
Most of the videos are narrated in English, and some are in Japanese with English subtitles. 
Their "Easy Japanese Lesson" playlist is especially useful for beginners looking to learn basic Japanese. Each episode follows a short skit in Japanese on a particular topic, such as answering phone calls or how to politely ask someone to repeat something. The videos have subtitles in both Japanese and English. Then, the host explains the dialogue and phrases in English (or in Japanese with English or Rōma-ji subtitles). 
All of their videos are well-produced. This channel is useful not only for learning Japanese, but also for deepening your knowledge about Japan and its culture.
Category: Culture, Japanese Street Interviews
Level: All
Easy Language has many language channels on YouTube, including Easy Japanese.
This is one of the best Japanese YouTube channels for immersion, and it introduces learners to how Japanese natives speak in everyday conversations. The videos feature interviews with Japanese people on the street, where the interviewer asks their opinions on certain topics. These topics may include things like Japanese public transportation, love, sushi, onomatopoeia, and Valentine's Day in Japan. 
It's very easy to follow along with, and its captions are in English, Japanese script, and Rōma-ji for effective learning. It's not a conventional language lesson, but it's helpful for learning spoken Japanese.
Category: Learn with Anime
Level: Beginner – Intermediate
If you're a fan of anime, then the Baka Proof channel is just right for you! This Japanese anime YouTube channel uses famous anime to introduce Japanese phrases, vocabulary, and grammar points. 
The videos on this channel first show a snippet of an anime scene with Japanese audio and English subtitles. Then, there's an explanation (in English) of the Japanese phrases used in that scene. Even if you don't have any basic knowledge, you can easily follow along with the videos and start learning basic Japanese. 
It's an ideal channel for anime-lovers who want to learn spoken Japanese and eventually watch anime in the original language.
Category: Culture, Subculture
Level: Beginner
When you get bored of formal lessons and textbook-style content, you'll find the TOFUGU channel fun and entertaining.
This channel deals with many aspects of Japanese culture, covering various topics that will keep you focused and entertained. You'll find videos on topics such as Japanese gestures, weird and interesting restaurants in Japan, Hiragana lessons, news, travel, and old Japanese myths. 
All of the videos are narrated in English so that absolute beginners can enjoy the videos. On the other hand, we only recommend this channel as a supplement to your normal Japanese studies. This is because the hosts don't speak Japanese in the videos nor do they offer traditional-style lessons.
Category: Language
Level: All
YouTuber Misa is a cute bilingual Japanese girl who will teach you practical Japanese phrases with grammatical explanations. She gives fun and easy-going Japanese lessons in English, with both Japanese and English subtitles.
Whether you're a beginner or advanced learner, you'll find her videos very useful. Her lessons include very basic content (such as how to write Hiragana and Katakana), as well as more advanced explanations (such as the difference between similar expressions and phrases). She also has interesting videos in which she reads manga comics in Japanese or introduces viewers to Japanese snacks.
Her content features wonderful grammatical explanations and covers a good deal of useful information. However, most of the phrases she deals with are informal and casual, so it's better to use this channel mainly for learning daily conversations and casual language.
Category: Culture, Japanese Street Interviews
Level: Intermediate – Advanced
Ask Japanese is hosted by a multilingual German girl who lives in Japan. This is another channel that features interviews with people on the street. She talks with both native Japanese people and foreigners living in Japan. 
These interviews cover many different topics, including subculture and personal matters. For example: 
Japan's strictest school rules
Whether Japanese people use dating apps
Sweets that Japanese people can't live without
How the Japanese take great photogenic photos
Videos are narrated in Japanese or English, and you can turn on the subtitles. It may be a bit difficult to keep up with the Japanese, as they speak fast at times; in addition, there's no Japanese script or Rōma-ji to follow along with. That said, this channel can be a good tool for listening practice and for learning natural spoken Japanese.
Category: Life, Subculture, Travel, Vlog
Level: All
YouTubers Rachel & Jun, an American and Japanese couple living in Japan, offer interesting videos covering a range of topics.  
The couple creates vlogs to show what it's like to live in Japan, culture shock, travel and food reports, interviews with traditional Japanese craftsmen, interesting facts about Japan, etc. If you're interested in Japanese culture and life in Japan, this informative channel will become your new favorite!
Rachel & Jun speak mainly English in their videos, and there are Japanese captions. If you're more interested in the language aspect, some of their videos focus on the Japanese language. For example, they sometimes talk about Japanese mistakes that Japanese people make, Japanese words that English should have, Japanese slang on the internet, and so on.
Category: Food, Life, Travel, Vlog
Level: All
Paolo from TOKYO is one of the most popular YouTubers in Japan, creating videos that serve as an exciting guide to the country. Paolo is a fun and friendly American guy who has been living in Tokyo for a long time, and is married to a Japanese woman.
His videos cover topics such as:
Good food and tasty restaurants
Sightseeing spots and travel information
What it's like to live in Japan
Cultural events and traditions
Some of his videos are documentary-style, following individual people. For example, he has videos about a day in the life of a Japanese university student and what life is like for a mother of a young child. Paolo is also a tech fan, and he creates videos about his drone and other cool gadgets he discovers.
Although it may be a bit difficult to choose which video to watch, as most of the titles are written in Japanese, you'll be able to follow along with any video you choose. He speaks in English and his videos have Japanese subtitles; when other people speak Japanese, there are English captions. 
This channel can be a very useful addition to your main language learning sources. Paolo will stir up your interest in Japan, its life, and its culture. In turn, this will motivate you to keep learning Japanese.
Category: Language / Language Exam (Japanese Language Proficiency Test)
Level: Intermediate – Advanced
If you're a serious Japanese learner aiming to take the JLPT (Japanese Language Proficiency Test), this channel is perfect for you. 
Nihongo no mori provides Japanese lesson videos that are made especially for JLPT preparation. There's a lot of content for N1 and N2 levels, but you can also find some lessons for N3, N4, and N5. In addition to Japanese grammar lessons, you'll find plenty of vocabulary and practice tests by level.
The presenters teach in Japanese, so this channel is recommended for those who already have some Japanese knowledge. (You can turn on the subtitles for better understanding, but these are also in Japanese.)
Category: Language
Level: All
Learning Japanese with anime, vlogs, news stories, and street interviews can be interesting and helpful, but when you want to learn a language effectively, you need a solid source of information. The JapanesePod101 YouTube channel serves as this solid source, providing fun and effective lessons for learners at every level. 
The JapanesePod101 YouTube channel has a well-organized structure, and its lesson content includes:
Comprehensive grammar lessons
Vocabulary lists
Writing and reading exercises
Phrases for any situation
Conversations between native speakers
Exam preparation tips
Cultural insights
Learning tips
Much more
You're sure to enjoy these lessons, delivered by our friendly and humorous hosts!
Whether you're just starting out or already know some Japanese, you'll find tons of useful content suitable for your current level. You'll feel comfortable learning with us, as we provide you with Japanese script, Rōma-ji, and English subtitles.
Not sure where to start? Here are some recommendations:
For Beginners
For Intermediate Learners
For Travelers
11. How JapanesePod101 Can Help You Learn More Japanese
In this article, we introduced the ten best YouTube channels for learning Japanese. When you take your language studies seriously, watching Japanese YouTube channels can really help you brush up on your skills. Continuation and repetition are the keys for effective learning. Find your favorite channels and make the most of your YouTube time!
If you would like to learn more about the Japanese language, from basic grammar to practical phrases for any occasion, you'll find a lot more useful content on JapanesePod101.com. Together with the JapanesePod101 YouTube channel, we provide a variety of free lessons for you to improve your Japanese language skills. 
Our personal one-on-one coaching service, MyTeacher, is also available when you subscribe to a Premium PLUS membership with us. Your private teacher will help you practice pronunciation, and you'll get personalized feedback and advice to improve efficiently.
And we have so much more to offer you! Learn Japanese faster and enjoy studying at JapanesePod101.com.
Before you go, let us know in the comments if there are any good Japanese YouTube channels you know about that we didn't include. Have you watched any of the ones from this article? We look forward to hearing from you!