Hello everyone!
I'm back with another app to help you learning your kanji for jlpt!
Here is what it looks like: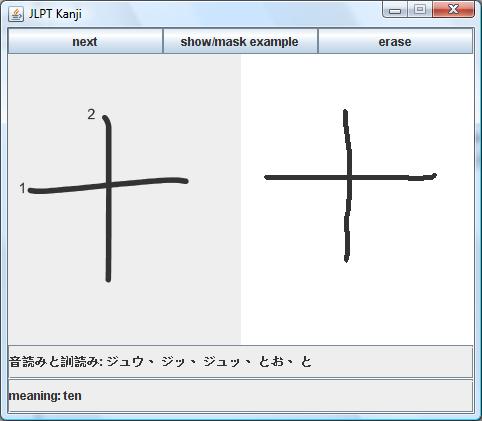 And what id does:
-> allow you to show/mask the example kanji with stroke order
-> display the meaning of the kanji
-> display the On'yomi and Kun'yomi of the kanji
prerequisites (all free):
to make it work you need to install the font "KanjiStrokeOrder" available here:
http://www.users.waitrose.com/~potato/KanjiStrokeOrders.zip
and of course you must have JAVA >= 5.0 installed on your PC/MAC/UNIX.
Here is the link to the App:
http://nakedvampjem.free.fr/jlptKanji.jnlp
For the moment, only the 4th level of the jlpt is included (103 kanji), I'm working on the 3rd but it's quite a mess so it'll take time
Anyway have fun and leave me your feedback!