6 Steps to Fluency with JapanesePod101.com
Excluding the very wealthy, who can afford private tutors and weekend immersion courses, for most of us learning a language is largely self-study process. Therefore, you're largely left to textbooks an occasional question, or two, in class, as even in classroom environments, a teacher usually spreads his limited time among 20 or so students. The needs of the group are put before those of the individual.
Our system is designed to meet the needs of the individual, and even though learning a language is a self-study process, there is no reason you should be in it alone.
We created a system that makes learning a language fun, easy, and community based. We have created the ideal system for any individual to learn a language at their own pace. While the order in which you study the following steps doesn't matter, it is a system. Each part plays a role, so the more parts you use, the faster you get better.
To really get good fast, the key is repetition, exposure and using all 6 Steps to Fluency.
Step 1: Listen to the Podcast
The podcast is broken into sections, and is a powerful tool that provides the basis for the other parts of the system.
Lesson Dialog - Real, modern, practical conversations using conversations you hear everyday - not 20-year-old dialogs written by PhD linguists
Cultural Insight - we take you inside life and culture of the language you want to learn so you can communicate right away and make friends, a real key to improving fast
Vocabulary - With a revolutionary "break it down" approach, we slow the speed of the words and phrases to a speed in which everyone can understand, and repeat. This approach will allow you to learn and say new words and phrases with every lesson you learn.
Vocabulary and Phrase Usage - Insight into how to use and the significance behind the phrases and words in this section will give you tips to completely understand how to use words and phrases so that you can really impress when speaking the language
Painless Grammar - here we cover grammatical patterns that help you effortlessly learn grammar.
Newbie Lesson - How to Say Goodbye

Click Play:

You can listen to the podcast or its sections again and again. As it's segmented, you can focus on just the areas you want to. After listening to the podcast, it's time to visualize.
Step 2: Read the PDF and Discover its Power
The PDF allows you to see, and visualize, what you heard. Seeing and hearing is an important part of understanding a language fast. Here we expand upon the words, phrases and dialog used in the podcast, with tips and explanations for 100% comprehension. Reading the PDF reinforces what is heard and leads to better retention. You can view the PDF on your computer in a browser or locally or print it out and take it with you, write on it or read along as the Audio Podcast plays.
Newbie Lesson - How to Say Goodbye
Step 3: Use Key Tools in the Learning Center to Make things Stick
Next, visit the Learning Center. Here use the most powerful tool we have the Line-by-Line Audio tool to master understanding of the main dialog and perfect pronunciation. In using this, foreign words will become familiar, and you'll learn to understand the words and phrases were previously just sounds to your ears.
There is also a Voice Recording tool, which allows you to record your own voice on your computer. Perfect your pronunciation by repeating after the native speaker, listening to it and making adjustments. The the Line-by-Line Audio and Voice Recording tool will improve your pronunciation to the point you'll wow teachers, friends, colleagues and speakers of that language. This is by far the most effective and powerful combination there is for learning how to speak with confidence and proper pronunciation.
Next, review newly learned vocabulary words and grammar with the Vocabulary List with Audio and Grammar List. Save unfamiliar words from the Vocabulary list to your own personal word bank to rapidly master difficult words. Use Expansion Sentences to better understand context. And use the Grammar List to see understand grammar as it's explained in a way anyone can understand.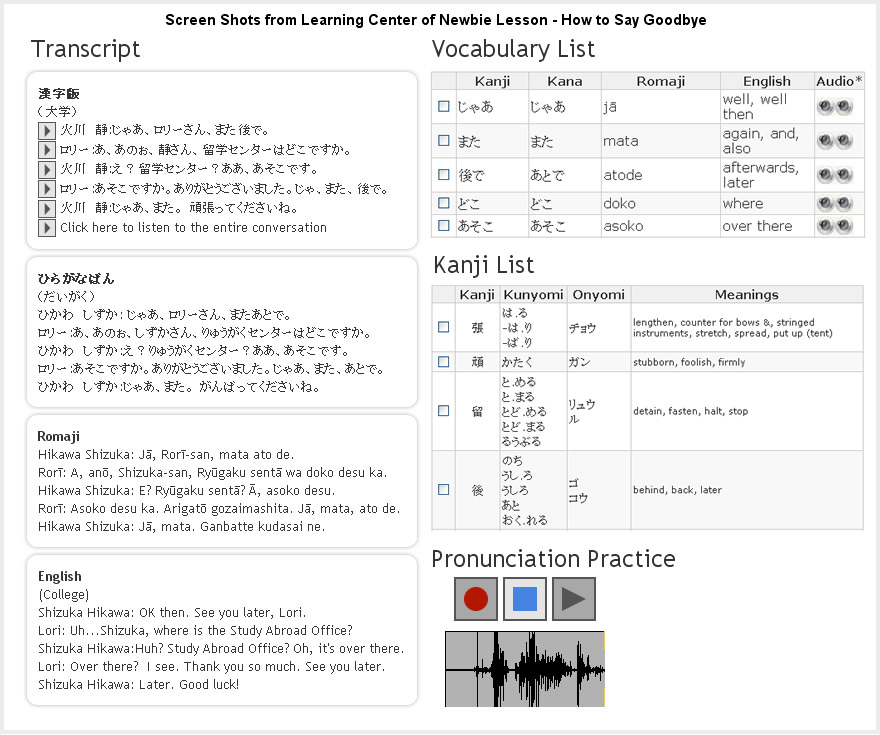 Step 4: Practice and Test to Improve Retention
There is a reason we have all used flashcards at some point in our studies. The bottom line is they WORK. We offer flashcards for all levels of your study to help you learn fast and make it stick.
There is also a reason schools use quizzes and tests. Not only because the want to make your life miserable, but also because they work. Lesson specific quizzes are designed to help you learn key lesson concepts and remember them! Study after study shows that quizzing is an important tool in committing knowledge and information to your long term memory.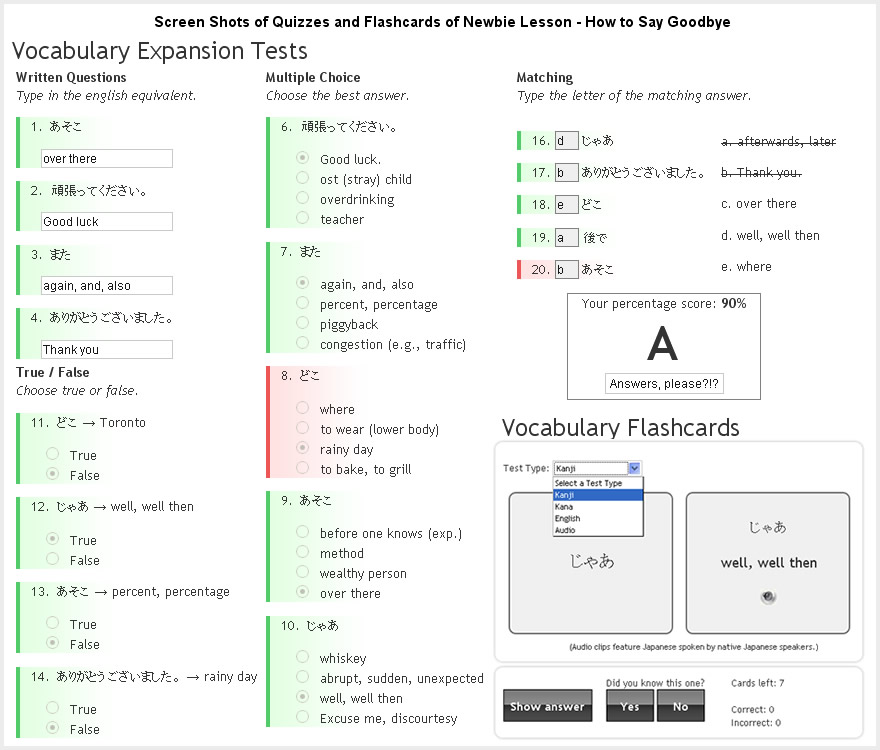 Step 5: Ask Questions!
Even though you may be reading, listening, or practicing alone, doesn't mean that you're alone. With our system, there is always someone to help. Leave comments and feedback on lessons. Ask questions in the forum. Being a community member is a key part of improving fast! Teachers are also active here too!
Step 6: Listen to Bonus Audio to Keep Content Fresh in Your Mind and Improve Fluency
Finally, consistency counts, and we make it effortless. The Review Track and Conversation Track are a crucial part of this process.
The Conversation Track is designed to keep ideas fresh in your head. Short, practical, and easy to listen to, the conversation only track will keep newly learned words, phrases and grammar fresh in your mind so you can use and remember them effortlessly.
The Review Track is designed to get you speaking aloud to increase fluency, flow and pronunciation fast! Repetition is the key, and this tool was designed to give you just that. Listen to and repeat after a Native speaker.
Newbie Lesson - How to Say Goodbye
Review Track: Conversation Track: